We're Debt Free! (Frugal Friday)
We are a participant in the Amazon Services LLC Associates Program, an affiliate advertising program designed to provide a means for us to earn fees by linking to Amazon.com and affiliated sites. We participate in other affiliate programs as well. For more details, please see our disclosure policy.
If you ever listen to a certain radio program, you know that listeners regularly call in to share their "get out of debt stories." Often the tales are gut-wrenching, tear jerking accounts of going from the depths of despair to debt-free living, life without bills, high interest rates, and stress. Usually the call is concluded with "the debt-free scream" where entire families shout together, "We're Debt Free!"
Some may call it hype. Others understand what. a. big. deal. it is to have the monkey off your back.
Debt, wealth.
Poverty, riches.
Wretchedness, abundant life.
The Bible is full of these comparisons. Jesus was born in a lowly, dirty stable. Jesus used parables of wealth found and of a son restored to his inheritance. Jesus knew how to feed the multitudes on virtually nothing.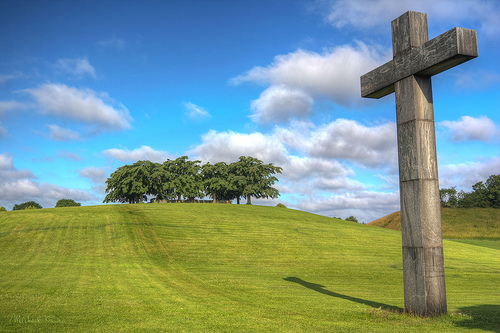 Jesus knew what it was to pay a debt.
That is what Good Friday marks. A debt paid. Praise be to God!
I can't talk about dollars and cents without mentioning the One who paid my biggest debts of all.
May your weekend be full of rejoicing that Jesus paid it all.
Feel free to leave your Frugal Friday link in the comments.