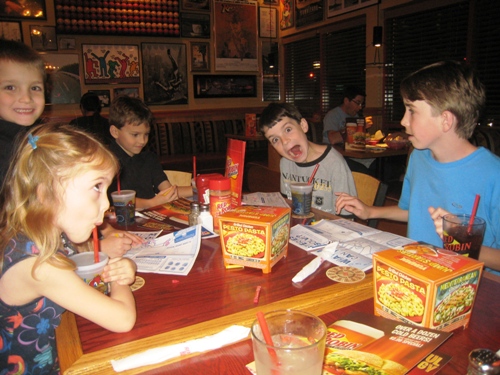 Yeah, I thought that would catch your attention.
Well, as much fun as another FishBaby would be, that is not the kind of baby I'm talking about. Instead, we're having a different kind of "baby," one we celebrated a few weeks ago at Red Robin.
This baby is due in June, will be delivered digitally, and will be the culmination of much more than nine months of work.
Confused? Well, in plain English, I'm writing a book! Last month I signed a contract with Harvard Common Press and will be writing a cookbook.
A real cookbook. You know the kind you go down to Borders and drool over and then fork over some cash and take home and cook up a storm and then you put it on your shelf until the next time you get hungry. I'm writing that kind of cookbook.
Yes, yes, I am.
And this is almost as exciting as having another baby — obviously, in a very different way. But, I may gain a few pounds anyway.
Harvard Common Press and Not Your Mother's Cookbooks

I'm honored to join the Harvard Common Press team. They have produced some fantastic cookbooks, including my most well-worn favorite, The Bread Lover's Bread Machine Cookbook.
My cookbook will be joining a number of exceptional cookbooks as part of the Not Your Mother's Cookbook series.
These books include:
These books are not only quality imprints, but they also contain a wealth of information and recipes for preparing delicious, updated meals. Not Your Mother's Slow Cooker Cookbook was revolutionary to the way I cooked and the way I looked at a crockpot. And I am amazed that I get to be a part of this series.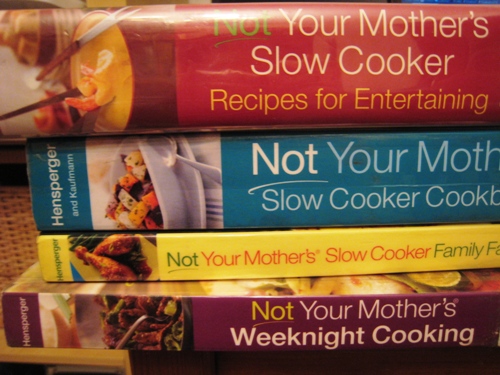 In case you haven't guessed already, I'm putting together the "Make Ahead and Freeze" portion of the series. And I hope that you will help me. After all, this book is for you.
Readers ask me all the time if I can recommend a good freezer cookbook. And my response has been, "The one I'm going to write someday?" Well "someday" is here. And I welcome your input and requests. Be sure to chime in during Freezer Cooking Days each month and feel free to send me an email with your freezer cooking questions.
What Shall We Name This Baby?
So, today we're celebrating with a giveaway. Since I want your active input throughout the creation of the book, I'd love to hear your ideas for the title! It obviously needs to start with "Not Your Mother's." You fill in the rest. Tell me your idea in the comments for your chance to win this giveaway.
Three LifeasMOM readers will receive a copy of the newest volume in the NYM series, Not Your Mother's Fondue, compliments of the Harvard Common Press.
Winners will be chosen at random and notified via email. Since this giveaway is random, it's okay if your idea is the same as someone else's. I'll close the comments on Monday night (12/6/10) at 8 pm PST and announce the winners shortly after.
THIS GIVEAWAY IS NOW CLOSED. Thank you for all the great book name ideas! Congratulations to nblazin@, sallycoupons@, and  cookwithdenise@ – their numbers were drawn randomly.
So, whaddya think?
What would YOU name this cookbook?

Curious about freezer cooking? Consider purchasing my cookbook, Not Your Mother's Make-Ahead and Freeze Cookbook from Amazon, Barnes and Noble, or your local bookstore. It's chock full with over 200 freezer-friendly recipes, planning pages, shopping lists, cooking plans, and basic and advanced how-to's to making freezer cooking work for any home, family, and lifestyle.