What are YOU Choosing for Christmas This Year?
We are a participant in the Amazon Services LLC Associates Program, an affiliate advertising program designed to provide a means for us to earn fees by linking to Amazon.com and affiliated sites. We participate in other affiliate programs as well. For more details, please see our disclosure policy.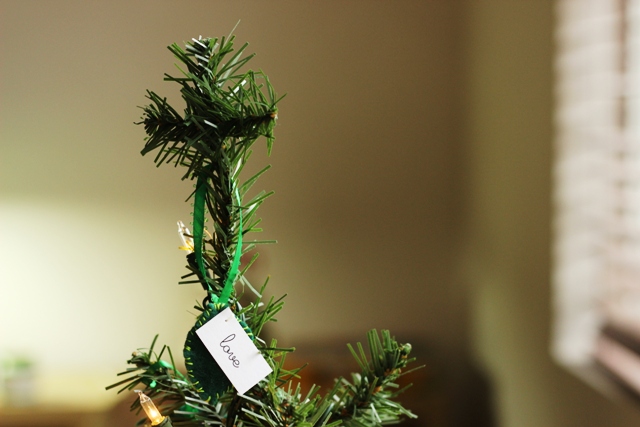 You know when you read a blog, a cookbook, or a curriculum handbook and there are so many choices and it seems like the authors must be wonder women to pull it all off all of the time?
Well, that's just a figment of our imaginations. Folks who put these things together are creative people who conceive great ideas. They collect them together as a service to others to help them navigate their kitchens or homeschools or life in general.
But they don't do all those things all the time.
I know this because I've met these women in real life. Susan Wise Bauer, author of The Well-Trained Mind, told me and a group of other bloggers in her very own living room that she doesn't do every learning activity in each of her books all the time with all her kids. She's done all those things in certain seasons of life. She collects the ideas into books and then shares them so that others don't have to recreate the wheel. She wants folks to choose from the many options available.
A cookbook author doesn't regularly make all the recipes in her books all the time. She gets take-out sometimes. Or lets her husband cook. Or decides she's bored with that chicken recipe and puts it on the shelf for a season. But, since she loves the recipes that she's developed, she compiles them in a book so others can choose. She doesn't expect you to make every recipe in every book. She wants you to make the things that speak to you, that say, "Yeah, that would be yummy."
The same goes for Pinterest, Facebook, and the myriad of blogs and websites you read every day. The fabulous ideas that you see there? Those are things to choose from.
They are not things to feel guilted by, shoulda'ed into, or otherwise convinced, that yes, you, too should bake this ridiculous five-layered cake of many colors with five kinds of homemade sprinkles on top.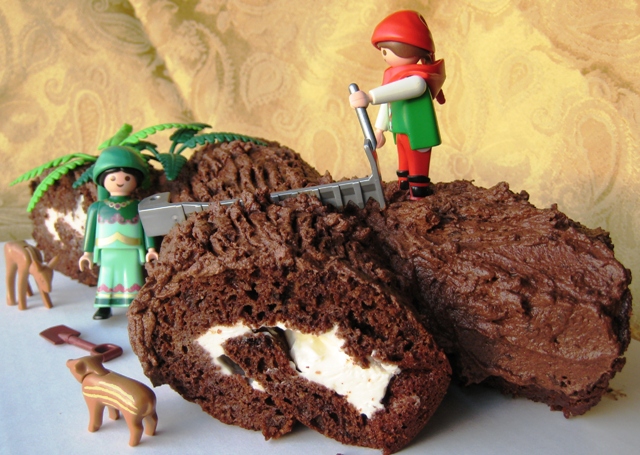 Those things are for you to choose from.
We live in an information age that allows us too many choices to process, let alone do. So, we have to choose.
It goes without saying that my family doesn't do every Christmas all the things that I've shared here in the bites and code of Life as MOM. We've done them and loved them. But, life is too complex to do all these great things all the time. We do them sometimes.
As a blogger and a fellow mom, I want to give you choices. I want you to have resources at your fingertips to be the mom you want to be, whether it's just at Christmas or all year long. But, nowhere, nohow do I presume that anyone should tackle them all.
Life is too short to be a crabby mom. I've spent too many December nights staying up way too late spinning my wheels over hand-made gifts, handwritten Christmas cards, and homemade biscotti.
As good as those things are, if they prevent me from being the mom God wants me to be for this season in my family, then they aren't worth it.
We have to choose.
So, in the spirit of full disclosure, here are the things that I'm choosing this year:
Intentional gifts
In seasons past, I was more concerned that my kids had "enough to open" on Christmas morning. It didn't matter that they didn't need or want the thing, I wanted them to feel like they had lots. After sorting through all our "stuff" recently, I've decided it's just not worth it. I'm taking a trick from Kara's bag and trying to be more intentional with my shopping.
FishPapa and I set a budget for each child and have opted not to give each other gifts. I've talked to the kids about the things that matter most to them, and am shopping for things that will add value to their lives and our home.
Someone might be disappointed when the last gift is opened, but aren't we always?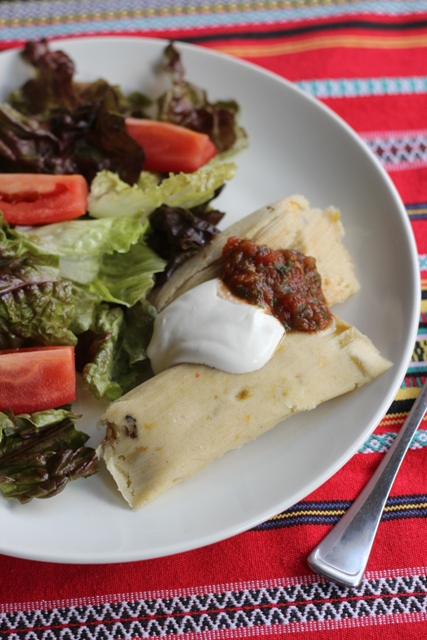 Traditional foods
On Sunday I posted my selected menus for Christmas Eve and Christmas Day. I knew they were meals that my family enjoys. However, FishBoy13 threw me for a loop when he said, "We're having tamales on Christmas Eve, right, like we always do?"
To be honest, I don't think we always do that, but we have done it the last couple years, so my menu plan is changing and we'll bump that make-ahead lasagna feast to a different day. (FishBoy16 insists we always have ham on Christmas, so there we are. Meals are chosen.)
It's important to me that on special occasions I make the things that are well-loved by my family. They get enough experiments around here as it is. Ha!
Special desserts
The year I lived in France, FishPapa came to visit me at Christmas. My French mom was a wonderful hostess and pulled out all the stops for the meals. Dessert was a traditional Buche de Noel. We've kept up the tradition, though I bake my own, and usually use a mix.
And though I do want to keep our sugar intake low, there are certain things that we truly enjoy at the holidays: Jesus Cookies, Chocolate Minty Melts, Snowball Cookies, and Double Chocolate Magic Bars.
Casual Advent observations
I've always had a hard time with Advent. Not that I don't enjoy it, but I feel guilty if I don't light the candle, read the story, or do the craft on the day it's supposed to be done. This year, we're not formally counting down.
Since our tree isn't up, we aren't even ready to hang our Jesus (Jesse Tree) ornaments. Instead, the kids and I are reading through The Jesse Tree by Geraldine McCaughren each day for our school devotions. If we skip a day, I double up the next day. I'm trying not to feel like a failure in the midst of it.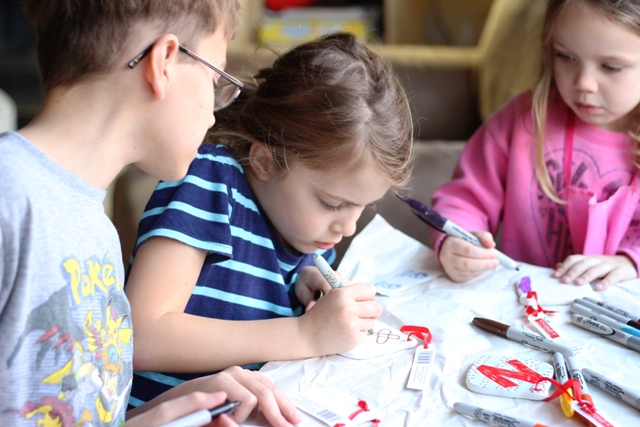 More crafts and games
My littles are really into crafting and games. Look at them? They are so picking cute!
I'm trying to make more time for these things. They've really enjoyed making the gift tags and the ceramic ornaments. We've got more of both to make. I personally enjoyed sewing the Fruit of the Spirit Christmas Tree Ornaments and still want to make a few more sets — IF time allows.
But, one caveat: I want these things to be fun, not to just cross off the list and say we did them. Three kids are pictured because three kids really wanted to do the craft. Three others did it later once their game time had been spent. That's the way it goes sometime.
What we're not doing
The list of all the things we're not doing is much longer than what we are. We're not participating in a Christmas play, serving at the local food bank, attending any parades, putting elves on shelves, or going caroling. We're not making 12 kinds of cookies, decorating the front yard, or attending a candlelight service. At least not this year.
There are many, many fabulous traditions out there and no shortage of valuable, meaningful activities to do together as a family. But, unless you have endless money, time, and patience, I just don't think you can do them all. At least I can't!
While I am tempted to do so, I don't think you should feel guilty about it.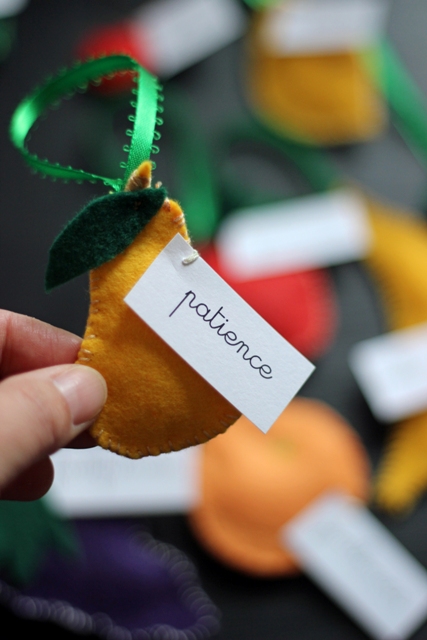 Be the mom you want to be this season:
Be loving, joyful, peaceful, patient, kind, good, faithful, gentle, and self-controlled. And if there are a few presents to open and some cookies to eat, call it a major victory.
What are YOU choosing this year?