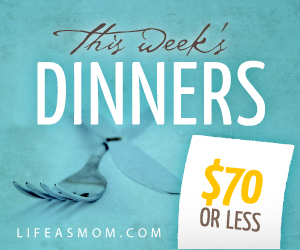 Did you download the new meal plan, This Week's Dinners for $70 or Less? Not only was this 7-meal plan complete with side dishes and shop-able (new technical term that I just invented) for $70 or less, it was also completely shop-able at Trader Joe's, so you could make use of one-stop shopping.
(I imagine that it is completely shop-able at other general grocery stores as well, but if you know Trader Joe's, you know that you can't buy everything under the sun there.)
Anyway, I'm working furiously on the next plan. I'd love to get your feedback. If you used the plan, I'd really appreciate hearing some details.
To make it easy, I put together this short little survey. Just a few clicks and you're done. And you will have immensely helped me put together an even better meal plan.
If you can't see the form below, go here to fill it out directly.