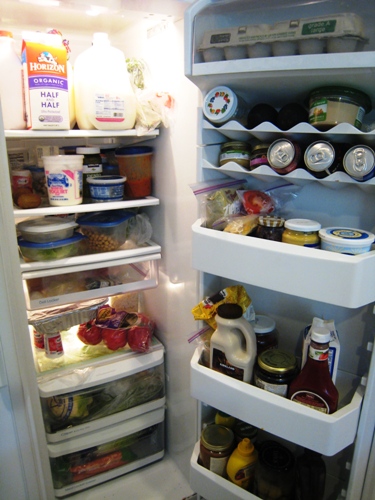 Ready to play Remington Steele? I don't watch much contemporary television; I have no idea if CSI is relevant to this discussion. But, I do have wonderful memories of faithfully watching Stephanie Zimbalist and Pierce Brosnan solve mysteries together every week at 9 pm on Wednesdays. It was Channel 4 KNBC. Circa 1982.
Anyway, today I'm doing something that I really can't believe I'm doing. I'm showing you the inside of my refrigerator…
without cleaning it out first!
Yes, really. This is like reality TV for refrigerator snoops. I just opened the door and snapped a photo. Take a good look. You ready, grocery geeks? You can totally figure these things out.
What can you find out about me based on my refrigerator?
You ready for the low-down? Here's my analysis, including a few details that you would be able to see if you were standing here with me.
1. Where I shop
I shop at Walmart, Costco, and Trader Joe's, among other stores. Kirkland bulk packaging, the GreatValue mark and Trader Joe's labels are clearly evident. Those are the places where, apart from regular grocery store loss leaders, I find the best deals.
2. I like funky foods.
Hummus, blue cheese, Dijon mustard, basil pesto, garbanzo beans and ginger root are fairly typical ingredients that I cook with, but they are not necessarily mainstream for most of North America. Or are they? You tell me.
3. There are food allergies in the house.
The presence of almond butter and sunbutter signify a peanut allergy while the ground flax seed meal acts as a replacement for eggs, due to my daughter's egg allergy.

4. I don't like to waste food.
Leftover pasta sauce, a plastic wrapped container of yogurt, and a tomato in a sandwich bag signify a consciousness about saving food. However, we don't know if I really use those things up, do we? No mold yet, so we can guess maybe I do really use the things I store. Maybe.
5. I buy my produce at the store.
While I wish that I could make a CSA work for me or better yet, grow my own, I do not. Plastic wrapped veggies fill the drawers. And I'm okay with that — for now.
6. The battle of the yogurts is being waged.
We currently have three kinds: greek, nonfat plain, and flavored Yoplait. Everyone likes a different kind and I use some for eating, some for cooking and baking. We just can't decide.
7. I'm lazy.
The Red Bull, Diet Coke, and Dr Pepper in the door are not mine. My brother and my mom left them here, but I can't bear to throw them out — that's wasteful — nor do I really want to drink them — they're gross. But, I'm also too lazy to move them to a cupboard and free up the space in my fridge.
The avocados and the kiwis are in the fridge because they're starting to get too ripe. And so refrigeration will slow them down a little bit. Not feeling highly motivated to use them, though.
So, that's me — in an icebox. You never knew so much about me, now did you?
What does your refrigerator say about YOU?

This post is sponsored by Mott's. As a Mott's Mom I have been compensated for my time spent writing. Participation in this program is voluntary; all opinions are my own.
Like  Mott's on Facebook and link up your own fridge pics and connect with other moms.