What I Did on My Summer Vacation
We are a participant in the Amazon Services LLC Associates Program, an affiliate advertising program designed to provide a means for us to earn fees by linking to Amazon.com and affiliated sites. We participate in other affiliate programs as well. For more details, please see our disclosure policy.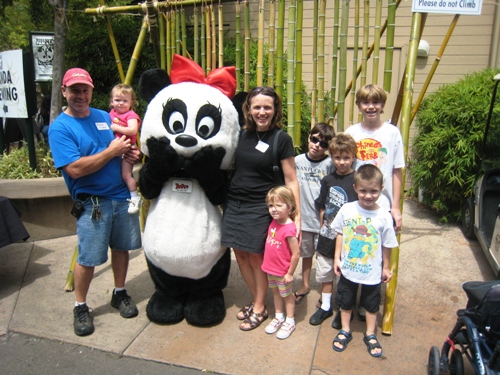 When I was growing up, I could count on at least one teacher asking us to write about what we did during our summer vacation. And since I'm a sucker for nostalgia, I thought I'd review the last three months and share some of the highlights of the FishFam summer with you.
You will remember that the kids and I planned to have fun this summer. And while we didn't do everything on the list, we still had a lot of fun!
We saw the Padres whoop the Dodgers. FishPapa and I caught a baseball game with my college roommate. Can't wait to go back to Petco Park!
We decorated tshirts. The kids love wearing their tie-dye tshirts.
We visited the grandparents. We found Yoda, ate lots of s'mores, had a bonfire, and we parents even escaped for a night away by ourselves!
We went to the zoo. The pandas are amazingly cute, the San Diego Zoo is amazingly big, and my kids are great walkers.
We caught a few free flicks. A very fussy toddler who didn't want to sit still prevented us from going to too many. Next summer will be so different. We also splurged and took everyone to a paid movie, too. For a once a year experience, it was totally worth it.
We went to the beach fairly often, collected shells, and brought lots of sand home with us.
We enjoyed free fireworks at Legoland. Local parking lots have a perfect view of the fireworks — free of charge.
We ate some froo-froo expensive cupcakes at a local cupcakery and then learned to make them ourselves at home. Yeah for homemade buttercream!

We went hiking.
We visited the California Surf Museum. My friend Jessika and I took eight kids to this museum last week. Unfortunately, the exhibit of Women on Water was not super interesting to my bigger boys, but I learned a lot of the history of women surfers. Fascinating!
We vacuumed every day. Yes, yes, we did. The FishBoys couldn't wait to get back to a school schedule where they hoped I would loosen up. Ha! No can do.
We enjoyed a few Panda Feasts and some Pat and Oscars.
We made s'mores in the oven one night when I was desperate for a dessert plan. To be silly, we sat on the kitchen floor and sang campfire songs. Yes, yes, we did. Well, not the older more mature members of the group. But, the littles and I did.
We chased mice.
We got to hang with my friend Joy and her family. So fun to continue a friendship with someone I met blogging.

We dressed like cows. Thank you to everyone who voted for our family in the race for free Chick-Fil-A. We had the second most votes and were chosen as finalists.
I'm actually amazed at all we did, especially as we spent quite a few lazy days at home, reading books and playing video games, and well, vacuuming.
And there were so many sweet moments with hubs and our kids, I'm not sure I can pick just one as my favorite.
What did YOU do this summer?
Pop over to Mom's Tool Box and check out Favorite Memories Friday. It's a new carnival to remember and to share how God has blessed you over the years.