Scroll through summer photographs and relive summer vacation as a family.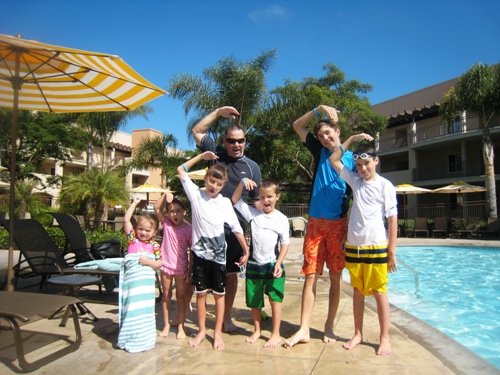 I'm not sure what happened. I must have blinked. And now summer vacation is over.
O-V-E-R.
We started school last week. We got a rolling start, cooking frogs, the slow immersion method. And we survived. Next week will be harder, but not as hard as the week after that.
I'm feeling a little hesitant to get too much into the swing of things. I see much activity in my future: three kids in hockey, one in piano, five in swim lessons, two in outside science classes, and one in an online latin class. There is much coming and going in our new school year, and I'm just fine and dandy with the slow approach.
Hold me.
As I scrolled through pictures from the last few months, was reminded of what a beautiful, memorable time we had. And I'm so glad I caught it on film!
To share the experience with you, I thought I would craft the traditional "what I did on my summer vacation" essay. In pictures. I promise it won't be as long or as boring as Uncle Fred's slides of his trip to Wisconsin. (No offense, Wisconsin.)
It'll be like you were right here with us. But not.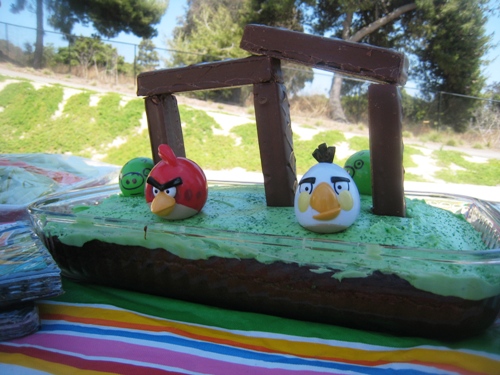 We partied.
We threw an Angry Birds birthday party for FishBoys10 and 8. Great fun with friends. Easy cake. Cute green pig targets.
FishBoy15 had his birthday and of course, we parents were stunned that we have a fifteen year old. When did THAT happen?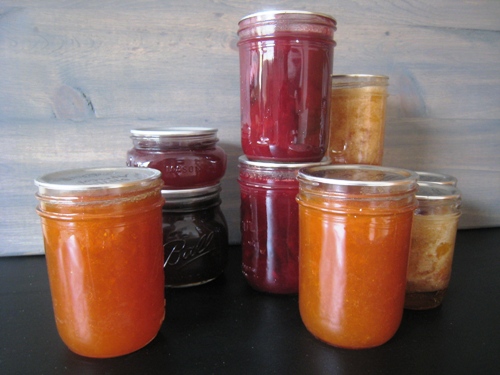 We canned.
A lot. Thanks to a great produce source, I made jam: plum, apricot, and cherry, as well as pickles! At first I thought the pickles were too soft, but we tried them in burgers and BBQ Pork Sandwiches and they worked just fine.
Now, we only have two quarts left and they tell me that the pickling cukes are gone for the season. Gone?! Somebody wanna ship me some pickling cukes?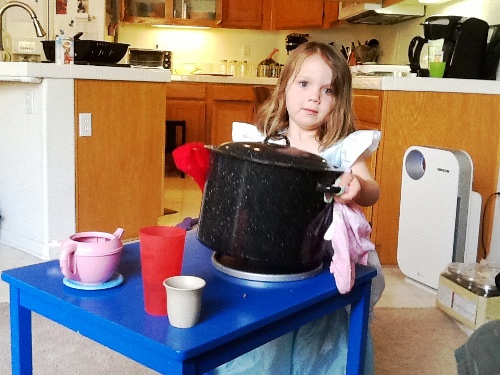 I love, Love, LOVE it that my girl got into the canning action, too. She embraced the experience and absconded with my canner to do some home preserving of her own.
I didn't let her help me much since most of canning is a hot experience, but apparently she took notes! Our kids are watching our every move.
We enjoyed cool drinks.
I fell in love with the lime and mint flavor combination. This Lime-Mint Cooler is amazingly refreshing. Add rum for a homemade mojito.
The kids enjoyed lots of homemade lemonade thanks to all the lemon juice we froze during the winter months.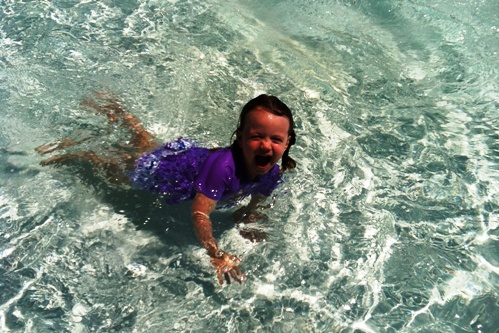 We played at the pool.
Thankfully (or not), hot days are still in our future as it stays quite warm here well into September and October. So, we'll be doing this more in the coming weeks.
The kids have done some swimming lessons and made great progress. The three older boys have passed the pool test. The girls are no longer afraid of going under.
I am not a strong swimmer. I recently realized my great fear and shame of this when I started CRYING to one of the pool managers. Yes, she was stunned, too.
They offer free lessons to parents, so I'll be taking advantage of this deal with much fear and trepidation. I did discover the beauty of goggles and realized that part of my fears are related to swimming "in the dark." I've since bought my own goggles so that I can practice a bit more and get better at swimming.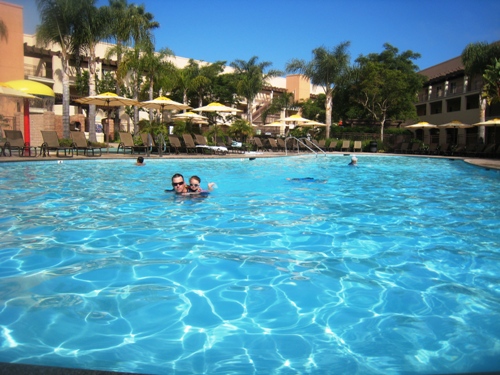 We had a staycation.
"Vacationing" in our own neck of the woods was a super treat. For the kids, the hotel is usually the best part of a vacation. We really enjoyed this and look forward to another such hotel staycation and fun vacation food traditions in the future.
We adopted a fifth boy — for a week.
Our friend Jacob came to visit us from Kansas City. We couldn't have asked for a better house guest. It was a great time showing him the sights and just hanging out.
(Hi Jacob! Come back soon! And bring your mom!)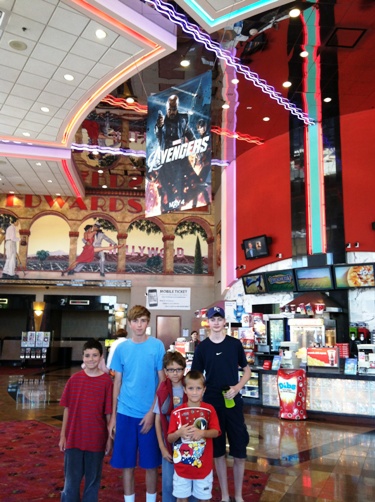 We became Avengers junkies.
After hubby and I went to The Avengers early in the summer, we spent a week watching all the movies with the kids. We became Marvel Universe geeks.
Once everyone knew the back story, the boys and I headed to the movie theater so that they could see it, too. The girls are waiting for the Blu-ray.
The boys and FishPapa have since seen The Amazing Spiderman and were not that impressed. The Avengers take the cake. Clearly.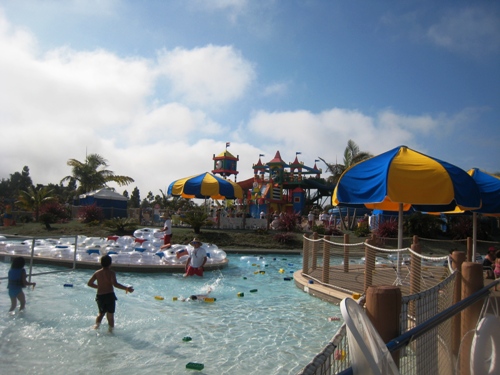 We went to the Legoland Water Park.
Thanks to a few press passes and several buy-one-get-one coupons, my brother and I took the kids to Legoland. This time we also included the water park in our visit.
The water park was amazingly fun, definitely the highlight of the day. The weather was warm, the crowds not terribly brutal, and the lazy river was so very relaxing. Even if you're holding onto a preschooler.
Two thumbs up on the water park. I definitely recommend it. I only wish you could buy a "Water Park only" ticket.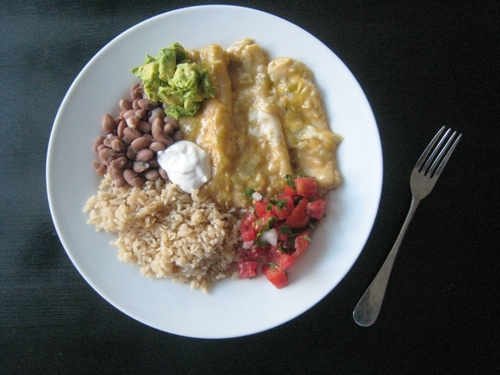 We ate from the pantry.
Turns out one of my kids dubbed the experience "The Pantry Fast." I thought we ate really well! These enchiladas were absolutely amazing.
During the Pantry Challenge, we saved a little money shopping the pantry and building menus on what we already had — and no, we didn't starve. My children are gifted in hyperbole. But, we are all very thankful for a full freezer.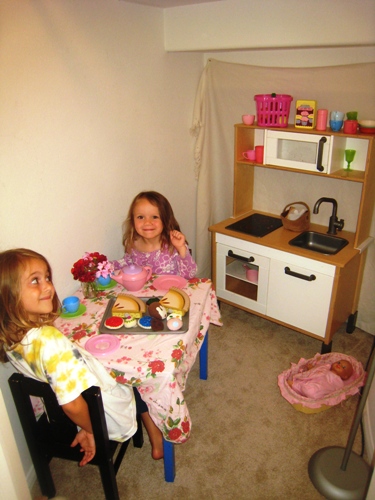 We created a play cupboard.
One week into having a new playspace for the girls and I'm so glad we did it. They have their own little messes to clean up that don't invade the whole house. Though, we're still working on the drift to other realms.
It's so fun to get daily invitations to tea parties!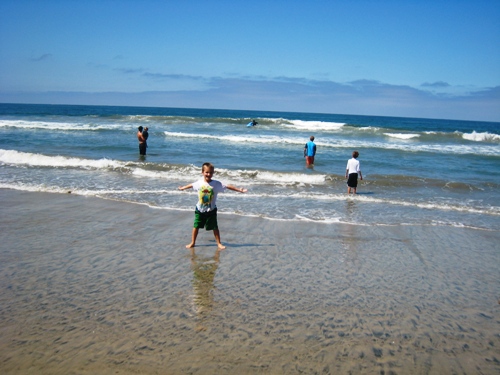 We played at the beach.
We live about ten miles from our favorite beach. And yet, we don't go often enough. We've made more of an effort this summer, and it's been loads of fun.
While I didn't get all my summer goals accomplished, it was a really good summer. Hunting through the photos has helped me to see and to remember that we had some great times together as a family. I didn't get my scrapbooking done, but this is a close second, n'est-ce pas?
What did YOU do on your summer vacation?