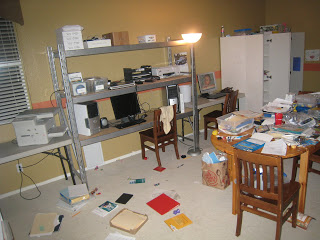 Is it gone already? Where did it go? My 42 days of summer vacation are spent before I even got warmed up. And I had such big plans!
How did I spend it?
— I cleaned the schoolroom from top to bottom. My dreams to do the whole house fell by the way-side. I'm so glad that this was at the top of the list. Not only did it help bring closure to last school year, I think it has set us up for success for this year. Ordering new books was easy since I already had an idea of what we had and what we needed. And other than free CVS school supplies, I didn't worry about getting new, especially since I found so many rulers hiding out in every nook and cranny. Now we can measure again! Joy!
— I saw family. We only made one trip out of town, to visit my in-laws and my sister and her family, who all live in Santa Ynez, just north of Santa Barbara. But, my mom came to stay a few times, and my youngest brother has moved in with us. He's going to be our "Charles in Charge" this coming year – Yeah! (Only his name isn't Charles and he doesn't look like Scott Baio.)
— I learned the inside of my dentist's office very well. Not only did everyone get a checkup and cleaning, but I had four fillings! Me! It was very humbling. Before I turned 35 I only had one. Now I have EIGHT! I guess it is all downhill from 35 after all. Sniff.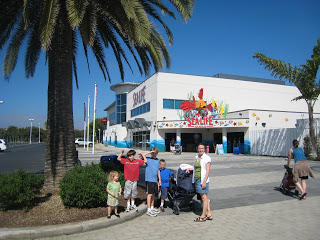 — We got to see a little of our community. We visited SeaLife Aquarium in July as well as made a few trips to the beach. We tried a few new Fish 'N Chips restaurants which were good, but so far nothing compares to the food at Alfie's in Lompoc. Unfortunately Lompoc is lacking a little of the atmosphere that places like Carlsbad can afford. FishPapa and FishBoy 12 took in a Padres game. The whole family is looking forward to a few more trips down to Petco Park. There's a wealth of stuff for families to do there!
— I celebrated Christmas in July. If you missed the series live, you can still browse the archives. The giveaways were really fun, and readers offered some great comments. Don't worry; the holiday season will be upon us before Halloween, so we'll revisit these topics and get to discuss them again. In the meantime, mark your calendar for Cynthia Ewer's Christmas Countdown which starts October 25. Or if you're more ambitious, check out the Houseworks Holiday Plan or the Holiday Grand Plan both beginning on August 30. Since I'm moving in the very near future, I'll be tackling the Christmas Countdown.
— I found out we have to move. This, I must admit, sent me into a downward spiral. I had just made the mental commitment to settle into this house as we've decided to forego purchasing a home for another year. We've got canyon views, no backyard neighbors, and a large park across the street. I don't love the house itself, but the location is hard to beat. I was all ready to unpack and start decorating. Switching gears — and homes — was not what I had in mind. That said, it's been a great exercise in faith, to trust that God knows what He's doing and in hope, to believe that He has something better yet ahead for us. I'm more than a little stressed about finding a new place, packing up, and cleaning, cleaning, cleaning. But, I think He can handle that, too.
— I dejunked several rooms before I got too depressed to continue. Every little bit helps, even if I didn't perfectly cross off everything on my list. I got rid of lots of kids clothes and instead of the stress and hassle of a garage sale, took them to Children's Orchard. They only purchased a small handful of items, but they paid me $34, far more that I would have got hawking them in my garage.
— I have one less child in diapers! The FishChick practically trained herself. In less than a week she was dry 24/7. Hallelujah!
— I canned 15 pints of jam. It was a hot weekend, but I survived. FishPapa harvested the nectarines from the tree out back and I cooked much of them into jams and syrups, combined with blueberries and strawberries that I got for great prices. Nanna trimmed and pitted another lug of nectarines for freezing. It felt goooood to go back to my roots in a sense. My grandmothers both did plenty of preserving every summer as did I when I was a young, non-cavity filled mom.
— I "unplugged" and lived to tell about it. I did what I thought I couldn't do — lived without computers for four days. It was much easier than I thought it would be and very refreshing. I'm hoping that this will be an encouragement to me not to get sucked in, but to take the good, and then turn off so that I can enjoy more time with my peeps.
How about you? What did YOU do on your summer vacation?