What Makes a Great Week in Our Homeschool
As an Amazon Associate I earn from qualifying purchases. For more details, please see our disclosure policy.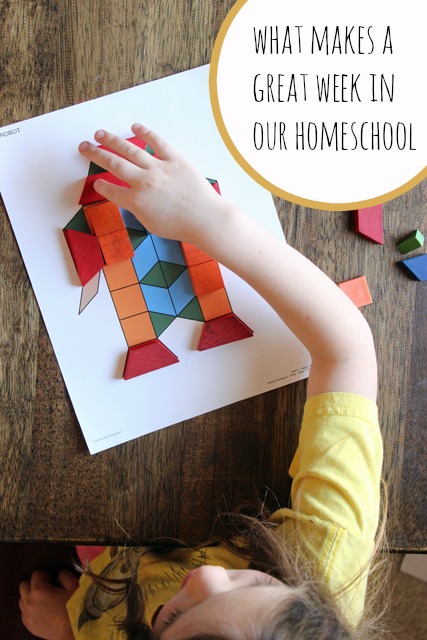 I've been formally teaching one child or more at home for the last 13 years. We did home preschool as well, so it's been longer, but with FishBoy17 graduating in June, we'll count it an official 13 years. I've learned a lot — and made a lot of mistakes. When I look at my kids and how much they've learned and how much I truly enjoy them, I don't regret having taken this road less taken.
Our school has been unusual this year since we traveled abroad for a month. It took me quite a long time to catch up from being gone for October and then slammed with the holidays.
Last week was our first great week in a long time. It wasn't "perfect", but it was pretty awesome. While I would love for it to repeat itself every week like clockwork, I have to be realistic. All the same, it's representative of my gold standard.
Here's what is characteristic of a great week in our homeschool:
1. We're not sick.
Seasonal allergies aside, this was the first week that hasn't been punctuated by wracking coughs, sneezes, or stomach upset. The weather cooperated as well; last week was the first that we were able to open the windows and wear shorts since November. (I know, this is unusual for most of you in February, but we generally have mild sunny weather in the winter months.)
I've loaded us back up on Flora Bears and bought a diffuser to use some essential oils. We're using pine, lemon, and peppermint, per JL's suggestions. While it could be the weather and time that is promoting the healing, I feel taking some other steps to get them well.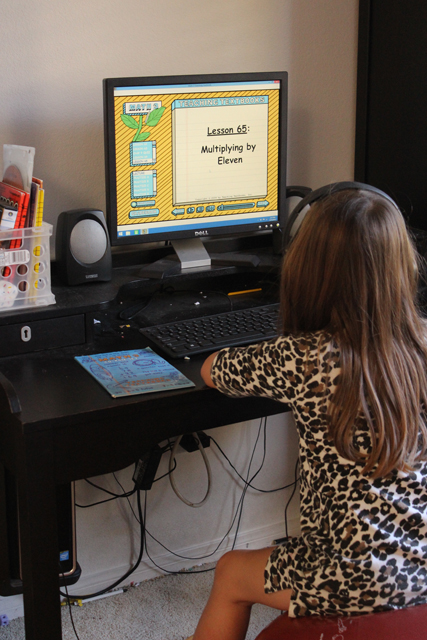 2. Everyone gets math and language arts done. Every day.
Five of the kids have computerized math (Teaching Textbooks and ALEKS); I work with the sixth (Saxon 1st grade). Daily math x 6 is the goal, but it doesn't always happen.
The kids in elementary and middle school years need my assistance to complete all their language arts. Some weeks I am able to squeeze everything in, sometimes I'm not.
3. We read some good books.
In addition to the independent reading that five of the kids do for a couple hours a day, I've been trying to get back into the habit of oral reading. It was a mainstay in our early years of homeschooling, but since more and more kids have become independent readers, the need has been lessened.
The baby hasn't had quite as many stories read to her as all the others have. I'm trying to rectify this now. I've missed our reading times. On our list this week were some excellent reads: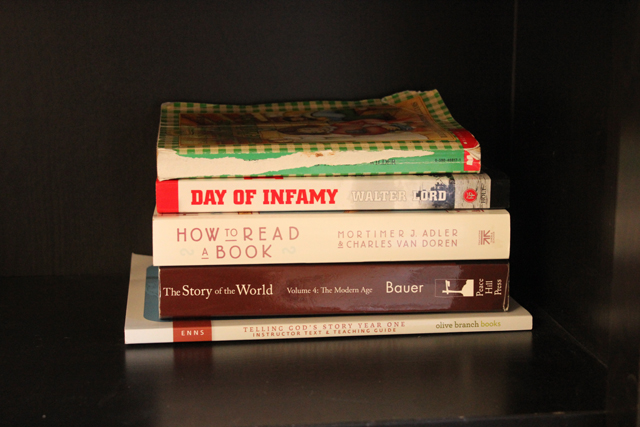 4. We have good discussions and wrestle with history.
Currently, we're entering a time period of history that fascinates our whole family. This year, we've been studying the modern age, but last week's dive into the 1930's was really interesting. The Crash, the Depression, the Dust Bowl, the New Deal, and the Rise of Hitler have all had dramatic effects on our world today. (The younger kids are reading The Story of the World, while the older ones are reading America: A Narrative History.
The kids particularly enjoyed the movies that we watched to supplement our history topics:
Reading about how the Okies were treated or how America dealt with the depressions has prompted great discussions that everyone participates in. FishBoy12 commented that though this week was jam-packed with school work, it was really good. When something is interesting, it doesn't feel like work.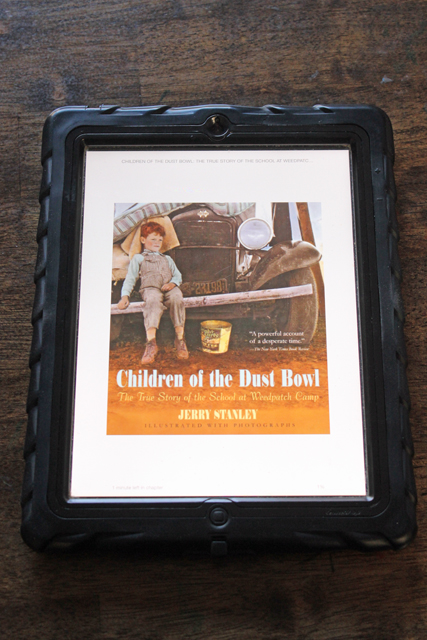 5. We get a variety of outside feedback.
For the last couple years I've used Brave Writer resources for our homeschool, signing my kids up for the online classes. I love being able to delegate that area of our coursework to someone else. New classes start for three of the kids this week, while a fourth has an ongoing class already begun.
In addition to outside classes, it's always so refreshing to hang out with friends. We spent a great afternoon at our homeschool park day on Friday where everyone — mom, too — got to hang out with peers and have fun.
6. Learning happens.
When I was in graduate school and the teaching program, one of the things my advisor emphasized was that a day (or week or month or year) is successful if learning happens. Often the school day, whether public or private, can be filled with busy work and checked boxes, but if learning doesn't happen, then it's not really a winning day.
I know it's a good week if my kids can converse in an intelligent way about the things they've studied, bring it up in conversation later, and otherwise demonstrate that they've learned not just facts, but the concepts and compassion needed to use that information in their everyday.
Last week was a perfect example of what I want our homeschool to look like.
What does a great week look like in YOUR homeschool?