Life as MOM contributor Rena shares some tips on how to look your best after pregnancy.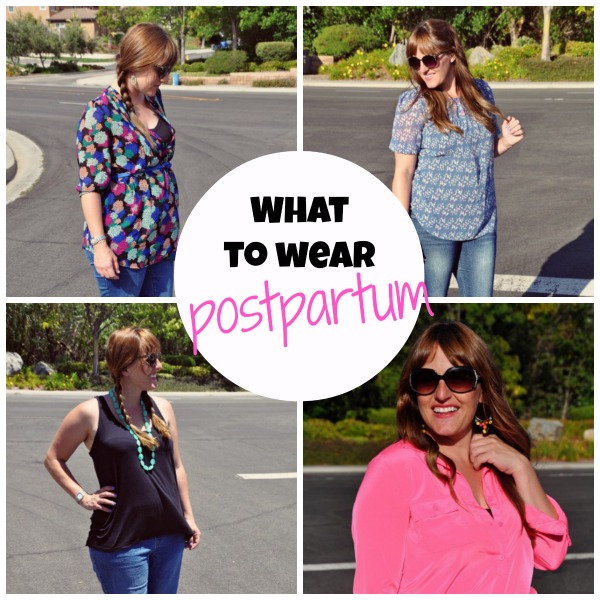 After you've had a baby, you hope to get right back to your old wardrobe, since it's been so long since you've worn anything but maternity clothes. Unfortunately your body won't bounce right back. Victoria Secret models who wear bikinis on the catwalk six weeks after giving birth are either aliens, bionic or total liars. You'll often look pregnant right after having a baby and for a while after. It's almost like your body is working backwards. It feels like you're shrinking at the same rate at which you grew. Here are some tips to help as you adjust in size.
1. Wear a belly band to help keep everything in place and to make your tummy smaller. Spanx and shape wear are always your friend at this time too. I also wear a belly band right away in the hospital and it helps with postpartum cramping.
2. Wear loose fitting shirts to not draw attention your tummy. Some maternity shirts might still work for this, but a lot of non-maternity shirts work too. My biggest problem is always finding shirts that fit over my larger chest because of breast feeding. Try to avoid shirts that go in too tightly right under your bust line or dresses with an empire waist. This will accentuate your stomach, making you still look pregnant.
3. If you are nursing, it is a plus to wear shirts that button up or have scoop necks. Also, camisoles are the best to wear under your shirts to leave them open and flowy.
4. Feel free to continue wearing maternity pants for a little bit while you work on losing the weight. If you have a great pair of maternity skinny jeans, you can get a lot of wear out of them. This is also a time to wear skirts with elastic waists.
5. And never forget to accessorize. A great necklace will help to draw the eye up and away from your belly. If your baby is still small, go ahead and wear normal jewelry. If your baby is a bit bigger and likes to grab and stick things in their mouth, you could always purchase some "teething jewelry" which is functional but still super cute. 🙂
And remember to give yourself time to get back to your normal self, especially since your "normal" is probably completely different from where it used to be. But if you take the time to take care of yourself even just a little, it'll help you feel really good!
Related articles:

Rena, aka "the girl with the smile", is an optimistic style blogger in San Diego. Learning about fashion through trial & error (high school years were pretty awkward), she loves fashion and the ability to create a look and boost self-confidence through clothing.
Since Rena lives with all men (husband and two sons), she needed an outlet for her fashion knowledge, so she started the blog The Girl with the Smile.