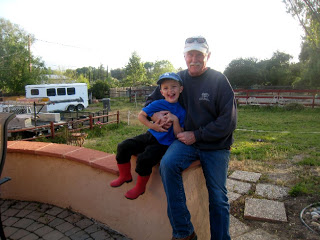 This week is full of plans for people. Maybe you're putting together a big Thanksgiving feast. Or getting ready to shop 'til you drop? Perhaps you're heading out of town on a family road trip.
The FishFam? Well, we're hitting the open road at the crack of oh-my-gosh-it's-too-early-to-be-alive. We haven't seen the paternal grandparents since June! So, we're going to visit them in their tiny, little cowtown for a few days. G'pa Lee and G'ma Marilyn are horse people so the FishKids will be donning their 10-gallon hats and boots. FishChick thinks she's gonna git G'pa to put her on a horse.
We shall see….
I'm packing potato chips and hummus and gonna put my feet up while the grandparents chase kids.
What are YOU gonna do? The blogosphere's all quiet now. Take a few minutes and tell us all your hopes and dreams for the Thanksgiving weekend.