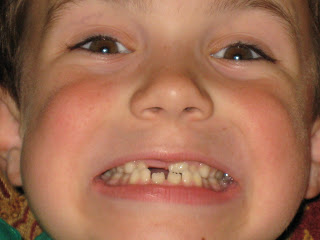 This month has been all about teeth. So far we've had 9 dental appointments and another 6 this week! Oh my stars! I am thankful for great insurance.
I had the worst report – four cavities. I just about died. I only have four fillings at the moment, so I've just doubled the amount of metal in my mouth. Since I don't have a big history of dental work, I'm a total wimp. And I'm not looking forward to this week's filling. Last time I had that done, I couldn't eat for three days due to jaw problems.
But while his mama is a wimp, the oldest FishBoy is a trooper. He has had an orthodontic appliance for 2 1/2 years. He's my gourmet, so his orthodontia has limited his ability to eat all the foods he enjoys. After the initial shock in 2006, he has done amazingly well and rarely complained when others got to enjoy something he couldn't.
Last week his appliance was removed, and he got a little reprieve. We treated him to homemade caramel corn on two occasions in celebration. However, this week we enter the world of braces – for him – and of retainers – for FishBoy8. Couple that with my filling and FishPapa's new crown, and our meals this week may be lame interesting. Can you say liquid diet?
But, since my birthday is also this week, I planned our hardest dental work for after the big celebration. Here's what's on our menu for the week:
Bean tostadas
Shredded beef tacos
Tri-tip, cheesy potatoes, salad, and carrot cake
Smoothies
Meatloaf and Mashed Potatoes
Pizza
Grilled Chicken, Rice Pilaf, and Grilled Veggies
Have you planned your meals for the week? Still not on the meal-planning bandwagon? Check out I'm an Organizing Junkie for 300+ real life meal plans every Monday.