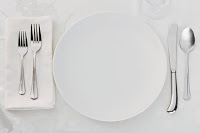 Our family has really enjoyed the fact that I'm back into the swing of cooking. I'm not back into the swing of much else, but we're eating well. And that helps everyone's disposition.
Last week's highlight was probably the Pasta Sauce with Italian Sausage that I made up on the fly. (OK, one kid doesn't like sauce, but everyone else scarfed it down.) And it was SOOOO easy. You're gonna like this one.
FishMama's Easy Pasta Sauce
olive oil
1 red bell pepper, seeded and chopped
half an onion, diced
1 large can crushed tomatoes with basil (I used Muir Glen)
1 large can chunky tomato sauce (Muir Glen, again)
1 T. basil
1 T. dried parsley
1 t. kosher salt
1/2 t. pepper
5 mild Italian sausages
Saute pepper and onion until limp. Place in crockpot. Add tomatoes, sauce, and seasonings. Stir to combine well. Immerse sausage in pot. Cook all day on low. Serve over pasta.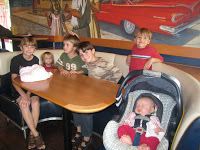 This week is an easier week since it's a holiday/birthday week. We are celebrating two birthdays as well as FishPapa's First Ever Paid Holiday. Whoo hoo!
At our house, we let the Birthday Kid choose the menus for the day. Yesterday FishBoy8 chose Long John Silvers for lunch. We ordered four kids' meals and that was more than enough food for ALL of us. Who knew? Birthday Boy has simple tastes so we had Lucky Charms for breakfast and baked chicken for dinner. (Ok, I did NOT eat Lucky Charms.)
On the menu this week:
Breakfasts
oatmeal, cranberries, and chocolate chips
banana bread and smoothies
cereal and milk
waffles, berries and cream
pancakes and sausage
bagels and cream cheese, cut grapefruit
cinnamon rolls
Lunches
Long John Silvers
corndogs, fries, and carrot sticks
PB&J, fruit
tuna sandwiches on homemade rolls, fruit
cheese and crackers, fruit and veggies
Campbell's chicken noodle, crackers
leftovers
Dinners
Baked Chicken, Rice Pilaf, Green Beans, Biscuits (bday choice)
Chicken Noodle Soup, Popovers, Fruit
Grilled Tri-tip, Cheesy Potatoes, Green Salad
Pot Stickers, Rice, Steamed Veggies
Taco Bowl w/ Beans, Rice, Chips, and Toppings
Chihuahua Chili, Cornbread, Veggies and Dip
Peanut Butter Chicken
Got a meal plan ready for the week? If not, check out some of the reasons why you should here. Be inspired by my November meal plan here. 😉
For more meal planning ideas visit I'm an Organizing Junkie every Monday.