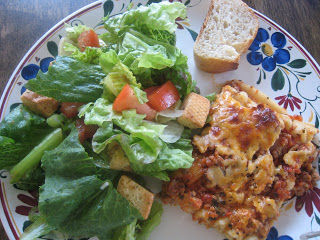 My mom is here this weekend, so we've enjoyed lots of laughs and good food. She's such a fun person to cook for since she likes everything I make. Here's what is on the menu this week:
Breakfasts
Cinnamon rolls
Homemade donuts*
Eggs and toast
cereal
apples and oatmeal
Hot Cross Buns* and fruit
Pancakes
Lunches
Asian Chicken and Noodle Salad
Tuna Pitas*
Pasta Salad
PB&J
Leftovers
Dinners
Pizza*
Lasagna
Meatloaf, Mashed Potatoes, veg
Bean tostadas
Peanut Butter Chicken
Taquitos, Beans, and Rice
Calzones*
Having a meal plan is a great way to streamline your life. Don't have one? Never done it? Here's my quick and dirty tutorial for meal planning. Want further inspiration? Visit I'm an Organizing Junkie every Monday.
* Recipes to follow.