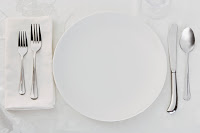 Having a plan for the week's menus helps me:
** save money – I'm not tempted to run through McDonald's.
** eat better – I can vary the foods that we eat, balancing out red meat, poultry, and vegetarian meals over the course of the whole week.
** get dinner done in a timely fashion – too often, without a plan, I wait until everyone is hungry and crabby. If I know ahead of time, I can head off the grumpies at the pass and have things hot and ready before anyone is famished.
** feel like I'm on top of things. If I know what the next thing on my list is, I feel a lot more focused. If I have a dinner plan, I have a target to shoot for.
Dinner at the Fish House this week will include:
Homemade Pizza, Salad
Tandoori Chicken, Grilled Peppers, Rice Pilaf, Steamed Cauliflower
Beans and Rice with Tortillas Chips and Toppings
Pasta with Red Sauce, Salad, Biscuits
Grilled London Broil, Potatoes, Salad
Weekend meals with my parents and ALL 4 of my siblings!
So, that's my game plan for the week. What's yours? Share it at Menu Planning Monday hosted by I'm an Organizing Junkie.