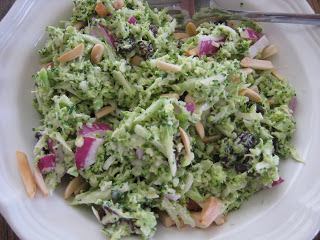 This past week was such a nice reprieve from doctors and dentists. The entire family enjoyed a relaxed, we-don't-have-to-be-anywhere week. And although we had some fun invitations, we purposely declined to keep the week free. FishPapa calls this, "circling the wagons" and it's a great way to relax and reconnect with the family.
As a result of our more laid-back week I was able to do some shopping and I also had some culinary triumphs.
Small Notebook posted her newfound love affair with Broccoli Salad. I have never liked Broccoli Salad and I can't stand anything with raisins in it. But, she waxed so eloquently about this recipe, that I decided to give it a shot and make a small batch. It was really good! I've made it twice now and really enjoy it. FishPapa even liked it and he doesn't like sweeet food.
In honor of Donut Day, we made our own. We don't have Krispy Kreme nearby, but – oh my – this recipe for chocolate cake donuts has got them beat. The chocolate flavor was super rich, even if it was just Hershey's cocoa instead of some fancy dutch process kind. (And, yes, I "cheated" on my diet.)
I don't normally use packaged seasonings, but the sales and coupons have been unbelievable that I couldn't pass up Lawry's Chili packets for 16 cents. My family loved chili made that way and kept asking what I did differently. Guess I'll need to find a copycat recipe for their Chili spice mix.
This week we've got two birthdays to celebrate as well as a road trip at the end of the week. So, the calm before my storm is over. I need to have a simple plan and stick to it, or chaos will reign. The Birthday Boys chose their dinner menus, so the rest of the week will be my fall-back easy meals.
Grilled Cx Soft Tacos
Bean and Rice Burritos
Bday Dinner – Steak and Cheesy Potatoes, Fruit Salad, Veg
Pasta and Salad
Pizza and Salad
Bday Dinner – Bratwurst/Hot Dogs, Potato Chips, Salad, Veggies
Out of Town for the Weekend
For more meal-planning inspiration, visit I'm an Organizing Junkie every Monday.