Get a weekly produce box? Wondering what to do with all those fruits and veg? Here are some ideas to help you eat in-season and local.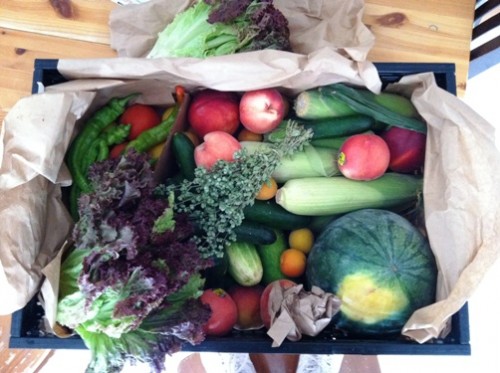 For a good portion of the month, my family and I are doing a Pantry Challenge. That means that I'm cutting our normal budget back a little and working on using up what we have. You can follow along with the challenge and my daily updates here.
I've put the produce box "on vacation" for a couple weeks this month in an effort to save some money. The box is usually so plentiful that it takes me awhile to use it all anyway. This week we got a box, and it's a beauty.
Here's what's in the box and how I plan to use it:
Cherry Tomatoes – I'm happy to eat these fresh — out of hand and on salads. But if push comes to shove and a wedge of Brie showed up on my doorstep, I'd make this Tomato Brie Pasta. The recipe calls for sun-dried tomatoes, but I've made it with a combination of dried and fresh before. Super yum.
Corn – When I was a child, my dad often grew twenty rows of sweet corn in the backyard. Yes, 20. That's pretty much all we had in the backyard. No grass. It was a sad backyard.
But, we had a garden. And corn grew in it.
As a result, I know the pleasures of boiled sweet corn on the cob, slathered with butter, and speckled with salt. So good! Usually, we can't eat it all in one sitting, so I transform the leftovers into other things:
This load of corn is just enough for us this week with my sister and her girls here.
Cucumbers – My kids love cucumbers sliced, plain and simple. We don't really need to do much. I toss them into salads. If I have an abundance, I'll make this Greek Salad. These cucumbers from the box were billed as "slicing/pickling". They are pretty large and prickly. Unfortunately, that makes me think they might be bitter. We shall see.
Eggplant – I'm not really sure what the benefit of eggplant it. Or how a WHITE one differs from the typical purple. But, we have plenty this summer!
I've already made a huge batch of ratatouille for the freezer. I also made a Roasted Vegetable Pasta sauce that we ate up last week. I've got three to work with this week.
Heirloom Tomatoes – Tomatoes are another fresh vegetable that we rarely let go bad. We eat them on sandwiches, salads, tacos, salsa, and burgers. No end of the uses here. If I really had excess, I'd roast them and freeze them for another time. But, Homemade Pico de Gallo works for me.
Lettuce – I'm a salad girl. Nuf said.
Summer Squash – Yes, we have zucchini! Oh, what a pain zucchini is to me. It either rains or pours. I'll be making these things:
Sweet Peppers – I don't think I've ever seen this kind of peppers. If they were lighter in color, I'd say they were banana or cubanelle. The produce box fact sheet said they were sweet. I think they are weird. Suggestions?
Stone Fruit – We've been getting donut peaches for the last few weeks. I'm glad that isn't an option this week. I'm thankful for apricots, nectarines, and peaches this week.
Watermelon – I don't think that watermelon has ever gone bad at our house. We've eaten it fresh, and I've juiced it. That's usually about it.
I've been wanting to try the whole watermelon, feta, and mint combination. I've heard about it for years, but never tried it. This might be the week if I can swing a small portion of feta into the grocery budget. Usually I buy feta in bulk, but I'm not making big purchases this week thanks to the Pantry Challenge.
Marjoram – This is the wild card this week. I know what to do with fresh dill, basil, cilantro, mint, and parsley. Marjoram? Not so much. Let me know what you'd do with it in your kitchen.
What's in YOUR produce box this week and how are YOU using it?