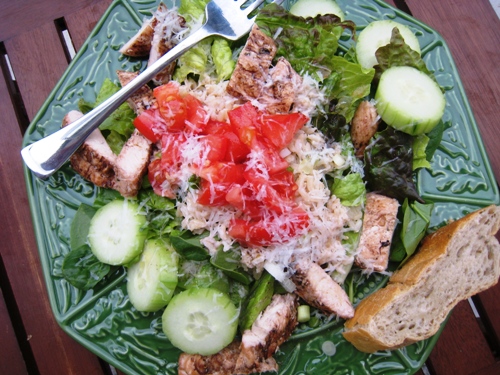 Over at Good Cheap Eats, we're sharing "what's on our plates." It's an opportunity to look at what real people on real budgets are eating. The real deal meal, ya know? Pop over and check it out!
But first, let me tell you about my favorite dinner. OK, maybe not THE favorite. But, certainly A favorite dinner. I love this meal. And it's one of my go-to dinners to serve company. It's so easy and fuss-free.
Grilled Chicken, Salad, Rice, and Bread
Last night we grilled chicken that I had marinated in balsamic vinegar and tarragon. I cooked brown rice straight up, no spices or broth, in the rice cooker and then made a little salad bar with what we had on hand. That ended up to be tomatoes, cucumbers, green onion, and romano cheese. I also mixed up some ChiChi's Italian dressing.
Layer salad, rice, and chicken. Drizzle with dressing. Serve a slice of sourdough baguette on the side. And we. are. good. to. go. Love it!
Disclaimer: Not all of the FishFam ate as well as I did. Some had their food in little piles, with nothing touching. Others limited their plates to the color white: chicken, bread, and rice — and maybe a Romaine heart.
What's been on YOUR plate? Do tell over at Good Cheap Eats.