What's Your 6th Picture?
We are a participant in the Amazon Services LLC Associates Program, an affiliate advertising program designed to provide a means for us to earn fees by linking to Amazon.com and affiliated sites. We participate in other affiliate programs as well. For more details, please see our disclosure policy.
Shona Christine tagged me for the 6th Picture Game. Since my 6th picture brought back a flood of memories, I thought I'd share it.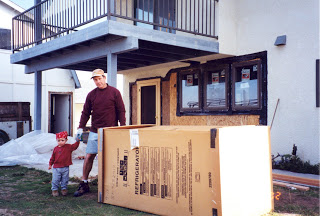 This is FishPapa and FishBoy8 (though he was only 2 in the shot) back at our house in Paso Robles. We practically rebuilt that house in the five years we lived there, only to finish our remodeling in time to sell it. While I have regrets about selling and moving in general, I know that in the last 7 years we've learned a lot about money, God, and human nature. One of the good fruits of our move was meeting Dave Ramsey and committing to live debt-free.
We were always frugal in some ways. Those windows were brand-new but heading for the dumpster at a job FishPapa was on. He asked his boss if he could have them. Free windows for our remodel! But, at the time, we also thought that debt and home equity lines of credit were "tools" to use to get what we wanted. We look back at this season and realize that we might have leveraged ourselves against that house in a very bad way if we hadn't sold it and moved away. While I miss that house and country living, I don't miss debt and living speculatively.
In some ways, I'd like to return to that time. But, only if I could take what I know now with me. I guess that's how life is, huh?
Ya didn't know that a simple photo could do that to you, didya?
If you want to play along, here are the rules:
1) Go to your photo folders
2) Select the sixth file folder
3) Open it and select the sixth photo in that file folder
4) Write a story for that picture, post it and
5) Select five bloggy friends to tag
6) Be sure to let them know they've been tagged
I hate to put pressure on someone to play — and I like even less to be rejected when they tell me NO, so if you'd like to play and take a walk down memory lane, will you bring your link back to the comments section so we can see? Family-friendly photos only, of course! 😉
What's something you've learned that has enriched your life?