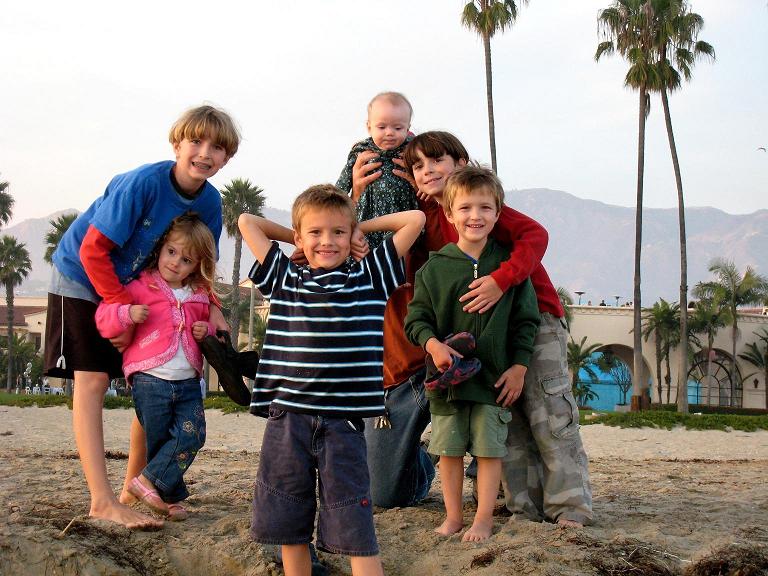 My best days include these people — and this guy. They are truly what give my life purpose and joy. I am such a blessed woman!
Eighteen years ago, shortly after I met "Fish," we spent Easter Day together. We had known each other just a few months, having met in his hometown/my college town, but we were already "head over heels." He picked me up to go to church, then we had brunch with his dad. Afterward we went on a long bike ride, gaining sunburn/suntan in the process. It was one of those hot, but breezy days in Santa Barbara when the salt air mixed with sunshine feels so good. We stopped at a gas station and sat on the curb, drinking root beer. Not wanting to let the day end, we bought a kite at the drug store and went to a local field to fly it. Afterward, we went to a pizza place for dinner. What amazing day! It ranks high as one of the best, memory-filled days of my life.
When I think over the best times we've had together as a family, they're not much different. I guess we love parks and good food! This past weekend we had a sweet time as a family after church. We picked up a take-out lunch and went to a small park. After eating, the kids scattered across the wide, green expanse — some to find pine cones beneath the tree, some to swing on the swings, some to go up and down — and up and down — the slide. It was relaxing, standing in the sunshine watching our kids play. Who knew on that afternoon so long ago that we'd continue to spend afternoons together that way with SIX KIDS?! Next time I need to remember the kite and the root beer!
What's does your best afternoon look like?
This giveaway is now closed.
Today's your chance to think about that. As I've got a great giveaway for you to see that little dream to fruition. Remember when I mentioned the Single Best Town Contest? Well, the semifinalists have been selected. You can read about them at Family Fun. It may be your hometown that's been selected! How cool would that be?
Today you can win one of two $125 American Express giftcards.
To enter the giveaway, go vote for your Single favorite town of the ten semifinalists then come on back to tell me what your Single best afternoon looks like in your own hometown. I'll be picking a winner from the comments here at random. Please make sure I have your email address so that I can contact you when you win. Giveaway is open until Wednesday, March 24th 8 AM PST. Winners will be announced later that afternoon.
I hope you win!
Disclosure: I have partnered with KRAFT Foods to help promote the "Single Best Town" in America program. I have been compensated for my time commitment to the program, which includes writing about my own hometown experiences and hosting a giveaway where the prize has been provided by KRAFT Singles. However, my opinions are entirely my own and I have not been paid to publish positive comments.