When Do You Say When? Having Babies, Building Families (Part Four)
As an Amazon Associate I earn from qualifying purchases. For more details, please see our disclosure policy.
The conversation started here.
A few months ago Libby wrote me and asked,
Here is the thing: do you think that your family would have felt complete if you had only given birth to boys? I ask because I have three precious sons, hard won after years of infertility treatment. They are the center of my world and I couldn't love them more…and yet my heart aches for a little girl to complete our family.

Feeling this way makes me feel selfish! Look at my blessings compared to so many women who would do anything to conceive…not long ago I was one of them. And yet I have prayed about this issue for the last few years…I come to peace with it and then within a few months I am filled with longing again.

My husband is happy with our family size as it is (and truth be told, struggles with the demands and financial pressures of three young children) but knowing my heart, he has offered to consider adoption if "my life won't be complete without a daughter." I was just curious as a mom of four boys first how you feel about things, if you have a minute to share your thoughts.
I wish I had a straightforward, easy answer. But, it was only three years ago when I pined for the same thing: a girl.
I distinctly recall sitting at a friend's baby shower. She had three boys and was expecting a girl. While I certainly didn't begrudge her her baby, I felt these pangs of longing. I still had a deep desire for a girl baby.
(Unbeknowst to me at the time, I was, in fact, pregnant with the FishChick. God knew the rest of the story, but I didn't.)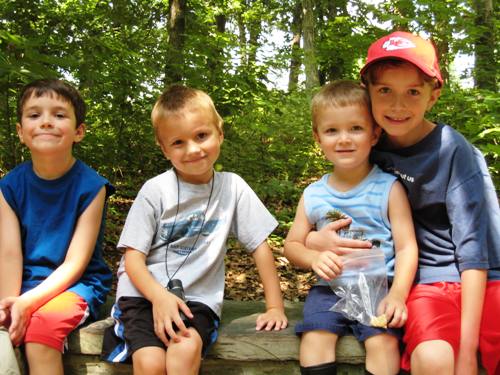 Embrace it!
One thing that helped me at the time was to fully embrace what I did have. I tried not to fixate on what I thought I lacked, but to focus on the wonderful, wild roller coaster it is to have a family of all boys. There are unique challenges, sure, but Oh the Joys of Boys! Those are unique as well.
We developed a sort of identity as a family of boys, coining the moniker, "FishBoys," and encouraging group togetherness. They took it from there, creating the FishBoy Alliance and other such fun stuff.
Ultimately, I think it's all in trusting God that He is crafting your family to be the best family for you. Since we don't know "the rest of the story," we have to rely on Him to work the fabric of our lives into beautiful tapestries.
I think it's a constant battle within ourselves to fight the "wish I hads" and replace them with the "I'm so thankful fors." And, Libby, it sounds like this is what you're doing – striving to count your blessings. And that is a good thing.
Now that pink has entered the family wardrobe, I cherish the memories of those all-boy days. And, honestly, now that I have children of both sexes, I'm still not sure I'm "done." There's always the thought, What would the next one be like? Girl or boy, it's hard for me to know when to say when.
Fellow moms, what do YOU say?
I know it's been awhile since the last installment of this series. But, let's talk something different than gift-giving and holiday parties. What's your experience in this? How would you counsel a friend in similar circumstances?
See you in the comments!