Where Joyful and Motherhood Intersect
We are a participant in the Amazon Services LLC Associates Program, an affiliate advertising program designed to provide a means for us to earn fees by linking to Amazon.com and affiliated sites. We participate in other affiliate programs as well. For more details, please see our disclosure policy.
The corner of Joyful and Motherhood is a beautiful place to be!
Ever find that "joyful" and "motherhood" are going in two different directions?
Crabby moms? Say it ain't so! But, reality is that sometimes it is difficult to do all you need to do AND keep a smile on your face.
Recently I came across a blog addressing "the fruitless, losing quest for perfection we are pressured to feel as mothers." Many of us are in pursuit to be a perfect mother, feel pressured to be, desire to be. The phrase kind of struck me upside the head.
To be a perfect anything, let alone a perfect mother is a battle you cannot win.
Perfect mother? What's that?
It gave me pause and made me think about my own journey as a mom. There have been plenty of nights lying in bed, staring the darkness in the face, and recounting all my failures of the day. I have blown it as a wife, mother, and homemaker more times than  I can count.
But, the thing that was so interesting to me in reflecting on that, is that now — at least this week — I'm not concerned with being "perfect." Maybe reality has just sunk in, and I know that I will not reach that destination in this lifetime. Instead, my goal these days is to enjoy it! I want to enjoy this season with my husband and kids. And those late-night chagrins often involve repenting of a crabby attitude.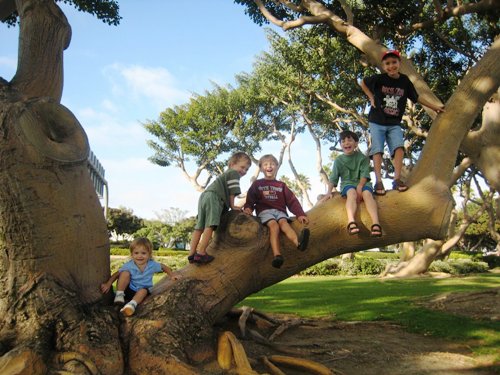 You can imagine that juggling family life in a large household is challenging. My husband calls it, "herding cats."
Everyone has his own agenda and it can seem impossible at times to get everyone going in the same direction. This can be frustrating.
But, the other day he said, "You know, right now feels crazy. But, I tell myself, they won't always be like this. And then I realize, THEY WON"T ALWAY BE LIKE THIS! And I find myself nostalic for today! They're going to be gone before we know it."
My wise husband hit the nail on the head. Today is fleeing quickly. Whatever season or phase we're struggling with today will be gone in the blink of an eye. And we don't want to miss it.
So, forget being Perfect Mom. I just want to be Joyful Mom.
She is clothed with strength and dignity;
she can laugh at the days to come.
— Proverbs 31:25
What's hindering you from being a Joyful Mom? What has helped you, encouraged you, motivated you to laugh at the days to come?
— graphic by Katie of GoodLifeEats.