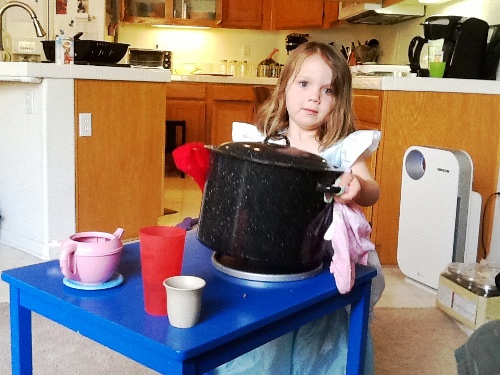 I got the idea awhile back to make dinnertime prep a little more fun and relaxing. (Read it on a blog somewhere and then embellished it to fit me.) The suggestion was simple and very doable for anyone. Here it is with my tweaking. Feel free to tweak as you see fit. Regardless, I hope that you will be able to whistle while you work.
Turn on your favorite music.
Get a yummy drink to sip while you cook. I would add, make yourself a little bowl of snacks (like nuts, chips, crackers), not too many, but just enough to sustain you during your work. In essence this little drink and snack becomes your hors d'oeuvre, as the French would say.
Find the kids an occupation that will prevent interruptions for the 30 minutes or so that it takes (hopefully) to put dinner together.
Place a paper towel by your work station so that you have a place to gather kitchen waste while you work, without marching all over the kitchen to find the trash can.
Fill the sink with hot soapy water and prepare to wash things as you go or load them in the dishwasher. This makes post-dinner cleanup way easier.
Since you're so calm and relaxed now, while dinner finishes cooking, set a pretty table.
If the kids want to help you, be open to the option. Anytime my kids volunteer to help, I try to find a way to make it successful for both of us. Hopefully, this will add to good attitudes about work.