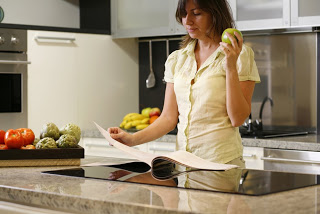 This week I'm going in. Cover me.
Yep, that's right. Going to do some "once a month cooking." If you've never tried it before, it's definitely worth your while, even if yours is a small family. I've been cooking this way a few times a year for the last 11 years, and it is always a welcome relief.
The basic idea is to cook up big batches of several different meals, package them into dinner size portions, and freeze them. Then each night just check the freezer for the next night's meal to defrost.
I've cleaned out the pantry and freezers. I've gathered a ton of groceries, choosing my OAMC meals based on what's on sale this week. And I've hovered over my cookbook for an hour or two working out a plan.
To really maximize on this project and to be a "I-am-Woman-Hear-Me-Roar" kind of gal, I would be doing all my cooking in one day. But since my roaring womanhood is evidenced in my burgeoning, very pregnant belly that makes it difficult to move, and since swimming lessons are going to break up every day of the next two weeks, I'm going to break up my cooking into sessions based on main ingredients: beans, beef, and chicken. So, I'll spend a couple hours each morning, for about three mornings cookin' up a storm.
Come back throughout the week to witness the carnage. I'll be twittering, too, if you're so inclined.