Why Christmas Now?
We are a participant in the Amazon Services LLC Associates Program, an affiliate advertising program designed to provide a means for us to earn fees by linking to Amazon.com and affiliated sites. We participate in other affiliate programs as well. For more details, please see our disclosure policy.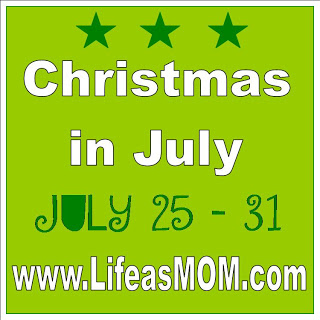 It's summertime. The sun is shining. It's hot outside.
Why in the world would we start thinking about Christmas now? Oh let me count the reasons why:
1. Summertime is a little more laid back. Schedules are a little looser. Now is a great time to think about last Christmas, what you want to improve on, what you want to do this year.
2. Some holiday projects take some time to put together. If you start thinking about those now, you won't feel so pressed come November.
3. By planning ahead, you can start adjusting your budget now and avoid over-spending and debt later on.
4. End-of-summer sales are great as are back-to-school specials. Savvy shopping now can pay off in money and time savings later.
5. Having a holiday plan before you enter the busyness of Fall enables you to enjoy the holiday season more, without feeling stressed out or over-spent.
For the next week, I'll be hosting daily giveaways as well as ideas for planning a simpler and more meaningful holiday.
To get you started thinking all things Christmas, check out these Christmas planning resources.
What do you want to do differently this Christmas?