Why You Should Have a Budget
We are a participant in the Amazon Services LLC Associates Program, an affiliate advertising program designed to provide a means for us to earn fees by linking to Amazon.com and affiliated sites. We participate in other affiliate programs as well. For more details, please see our disclosure policy.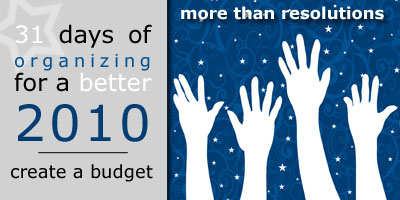 Most people have heard that they should have a budget if they're going to manage their money wisely. But, knowing WHAT to do is entirely separate from knowing HOW to do it or even WHY to do it. To be a successful adult, I think we need to know all three. Today Mandi at Organizing Your Way is sharing HOW to create a budget. If you have never created a budget, there's no better time than the present for you to start. This is a new month, so today is a great day to get one going.
Three years ago, our family did not regularly budget. In fact, we just spent money until the money was gone and then some. Needless to say, it got us in a bit of trouble. We didn't file backruptcy or get foreclosed on, but one day we woke up and found that we had a lot of debt without a lot to show for it. FishPapa and I tightened the belt and worked hard to get our affairs in order. It took us about 18 months to pay off $18,000 in consumer debt, but we did it. Today we're debt-free except for a rental property we own in Kansas City.
One of the best tools at our disposal was learning to budget. If budgeting is a new practice for you, you may be wondering,
There are probably many answers to this question, but from my experience, here are three important reasons for having a budget.
You will know where your money is going. Often times, people spend their hard-earned money and then wonder where it went. If you decide at the beginning of the month where to spend your money, you won't wonder where it went because you told it where to go.
You will control overspending. A good budget accounts for every penny in the kitty. If you've already decided where to spend your money, then all your pennies will be spoken for and can't find their way to Stuff Mart without your permission. If you have a budget and stick to it, you won't spend more than you have or spend it on things that you shouldn't.
You will have peace. If you're trying to watch your pennies, then you probably feel guilty when you spend money, second guessing the purchase or feeling bad afterward. I'm often plagued by this. But, when purchases are planned and budgeted, you will have freedom to make those purchases because they were already planned. Additionally, if you are married and prepare your budget jointly with your spouse, you will have a wonderful opportunity to discuss expenditures together. If you're both committed to sticking to the budget, your spouse can't come home with a bass boat or a $500 dress that causes you to hit the ceiling.
A budget will not only help you financially, but it can also contribute to peace in your heart and peace in your relationships.
So, what do you do? Do you budget? Why or why not?