The crockpot, or slow cooker, is the busy family manager's best friend. Or at least it should be! Unfortunately, over time it's been the most maligned kitchen appliance ever invented. This would be due either to
A. its misuse — just throwing any old junk in a pot doesn't make a good meal.
B. its unuse — crockpots have gathered dust on the shelf for far too long.

I've actually had to retire a crockpot from overuse. I think it lasted us about 5 years of marriage. Our current models (here, here, and here) have lasted us much longer. They, are in fact, some of my very best friends.
Who else will slave away on this delicious meal while I am off galivanting about? I give a few "instructions" before I leave, and dinner's practically ready when I walk in the door.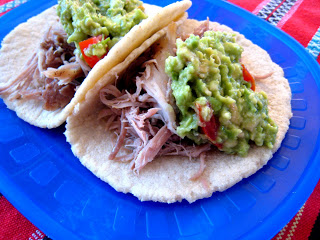 Just a Few Reasons Why You Should Love Your Crockpot:
This dish is so easy and inexpensive. Carnitas cooked in the crockpot and served on homemade corn tortillas with a dollop of guacamole? Oh yeah. Me thinks you'll want the recipe.
Homemade chicken stock is the most economical way to enjoy soups, stews, and gravies. The slow cooker will make it for you while you sleep.
Apples turn into sauce before your very eyes. Just toss peeled, cored, and quartered apples into the pot, add a little water to prevent sticking and some lemon juice if browning bothers you. Cook apples until very soft. Stir until the desired consistency. Season to taste with cinnamon and sugar.
Dried beans become a hearty, frugal meal of home-cooked pintos after spending a day with your crockpot.
Chocolate fondue, anyone? Oh yeah. You're gonna love this one. Chill the leftovers (if any) and hide from your children so you can eat it with a spoon.
This recipe for Salsa Verde Beef is a winner, especially with the men in the family.
The all-time Getskow Family favorite meal can be made in the slow cooker. This stuff is sooooo good. My sister still licks her plate clean!
My slow cooker
works for me
, and I'm so very thankful. Dust yours off and give it a spin. You'll be glad you did!