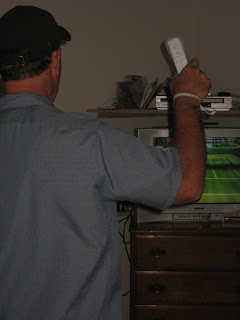 The FishBoys have been interested in video games for a few years. First they pooled their funds to purchase a Nintendo 64 off Ebay. Awhile later some friends gave us a GameCube they no longer wanted. Using an older, used gaming system is a great way to innaugurate your family into the World of Super Mario Brothers. We have been able to get used games from family members and online auction for a fraction of the price of new games. For awhile we were able to also purchase GameCube games at Target or Walmart. The drawback to using an older system is that eventually it becomes difficult to acquire more games, particularly when the system is discontinued.
Nintendo and its competition are pretty savvy. If you stop making the product, they'll have to buy your new, bigger, better product.
Well, I for one, have not been keen to buy the new, bigger, better product. In fact, I don't buy them at all. The FishBoys have either bought all their games and systems with their own money or received them as gifts from friends and family. This past year they collectively decided that they would like a Wii. It was amazing to see how they scrimped and saved, pooled their birthday money, and even asked for extra jobs so that they could earn the money to buy a Wii. Their only concern was whether or not they would be able to get one once they had the funds to make the purchase. As you may already know, Wii is pretty popular these days, and the systems are difficult to find.
So one sunny summer Saturday, I'm minding my own business, strolling through Target, when I head into electronics. I have no idea why. There on the bottom shelf of the cabinet, behind the glass door I see a lone box marked Wii. And my heart starts to race. I look around. No one sees what I see. I grab the nearest Electronics Guy.
A few minutes later I'm walking out the door with a Wii clutched tightly in my possession.
Ok, yes, I did call FishPapa first and we discussed it. We figured that a bird in the hand was better than two in the bush. The boys would be disappointed if they couldn't find one when they finally reached their goal. We had the cash, so we would buy it now and keep it a secret.
Well, secret it was for quite some time. This little baby travelled incognito across country, and the kids never knew there was a Wii in their presence. But, they had their cash. And they've had open hands to share it.
When FishPapa didn't have the coinage to pay a toll road fee, out came their wallets to lend him the cash. When library books were overdue and fines were needing to be paid due to FishMama's bookkeeping error, FishBoy offered to pay them.
In the end we decided that we would buy their Wii, and they could save their money for accessories, games, and Christmas presents.
Wii did it in a fun way, too. FishBoy8 celebrated his birthday a few weeks ago. We bought him a Wii game. The boys were a little disappointed when he opened it because there was no way to play it. That's when we handed them an envelope with Clue #1. They proceeded on a scavenger hunt upstairs and down from clue to clue until they found a paper grocery sack wrapped in packing tape. What fun!