Win a copy of Andrew Peterson's latest album, Light for the Lost Boy. THIS GIVEAWAY IS NOW CLOSED. CONGRATS TO THE WINNERS: jnairz@,  hamsleyk@, chopf712@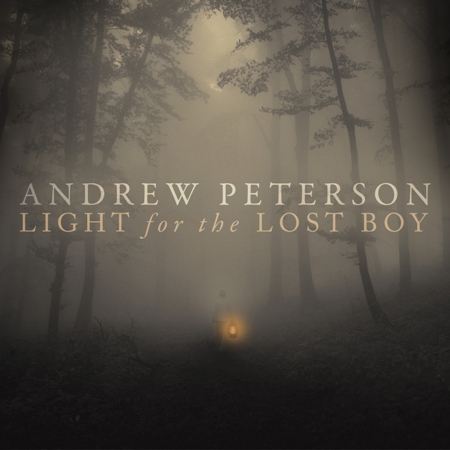 Andrew Peterson is by far one of my favorite "creatives". His music fills my iTunes. His books grace our shelves. His voice fills our Christmas season.
His tweets and status updates scroll by me through the day as if I've known him all my life. (It was he who convinced me to go see The Avengers. See? Life changer.)
He is, for lack of a better word, a household name. My 10yo wants to be him (well, like him) when he grows up!
AP is a singer, songwriter, musician, author, and all around cool guy. I know this latter point from his work, I suppose. I don't know him in real life. But the stories he tells, whether in music or prose, demonstrate that quality of person that you want to know and want your kids to be like.
Some day I want to go to Hutchmoot.
Today his latest album, Light for the Lost Boy is released. We've been listening to it for several weeks now since we got a pre-release copy. And yes, we love it.
Hubby, resident musician and official labeler of what constitutes "good music", concurs. One of our favorite songs is "Day by Day," echoing the joy and pain of growing up and watching our kids grow, too.
Another great song is "Rest Easy." Check out this video and tell me you didn't cry.
Oh my. Yes.
As a fellow parent, I think Andrew Peterson "gets us". I think he's able to capture the Christian life, the parent life, the human life in words and music, in a way that makes you feel that you are not alone.
I'm so pleased to be able to offer this new album as a giveaway!
Three Life as MOM readers will win a copy of Light for the Lost Boy.
To Enter:
Simply complete the information on this form. Please know that the information is only being gathered for the purposes of mailing you your prize in the event that you are chosen as the winner. This information will not be sold, traded, or given away.
This promotion is open until Friday, August 31st, at 8 pm PST and is limited to US residents, 18 years or older. Friends and family of Jessica Fisher and Life as MOM are ineligible for entry. The winner will be chosen randomly. The prize for this promotion is provided by and shipped by Andrew Peterson and/or his representatives. This post will be updated with the beginning of the winner's email address. Jessica Fisher and Life as MOM will not be held responsible for unclaimed or undelivered prizes.
Disclosure: I have received a review copy of Light for the Lost Boy. All opinions are my own. I am a true fan. I confess, I would probably cry if I ever met him. This post does include Amazon affiliate links. If you make a purchase through those links, I am paid a small amount in way of advertising fees.