Mindset for Moms, by Jamie Martin, is a great resource for reframing how you think about your "life as mom."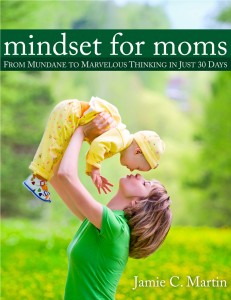 I've told you a little bit about my friend Jamie's new book, Mindset for Moms. It's an easy read, set up for daily devotionals or one big read-athon, whichever you prefer. The purpose of the book is to help you get "from mundane to marvelous thinking in just 30 days." Jamie sent me a review copy of the pdf version awhile back, and then later I bought the Kindle version.
Jamie does a great job helping us "rethink" our circumstances in a way that is more positive. The tasks in the book are practical, helping you analyze what's most important on a given day or in a given situation, and frames your thoughts for being more positive — and loving and fun to be with — a benefit for yourself, for others, but definitely for your kids.
Having known Jamie from afar for two years one thing stands out above all others: her dedication and purpose to do well by her family. She's not perfect; none of us are. But, I see in her "I'm sure gonna try" kind of attitude that is both inspiring and infectious.
This week Jamie is giving away six copies of her ebook, Mindset for Moms, to Life as MOM readers. Yeah!
To Enter:
Simply fill out this form with your name and email contact.
Please note this information is being gathered solely for administrative purposes to send the winners their ebooks. This information will not be given out, sold, or otherwise shared with any other sources.
This promotion is open until Sunday, March 18th, at 8 pm PST and is limited to US residents, 18 years or older. Friends and family of Jessica Fisher and Life as Mom are ineligible for entry. The winners will be chosen randomly and notified via email. Please respond within 48 hours to claim your prize. This post will be updated with the beginning of the winner's email addresses. The prize for this promotion is provided by and shipped by Jamie Martin and/or her representatives. Jessica Fisher and Life as MOM will not be held responsible for unclaimed or undelivered prizes.
Congrats to the winners: joy@, hersheylady3@, johnandbeckyfitch@, Kimpace99@, meints08@, windsormis@
Disclosure: if you make a purchase through that Amazon link up there, I do receive a small percentage of the sale. Also, I received a review copy of this ebook, however, my opinions are my own.