Cooking tongs are a huge asset to freezer cooking. Win a set this week!  This giveaway is now closed. Congrats to the winners: jomartnap@, vickievers@,  iljjlm@, cookwithdenise@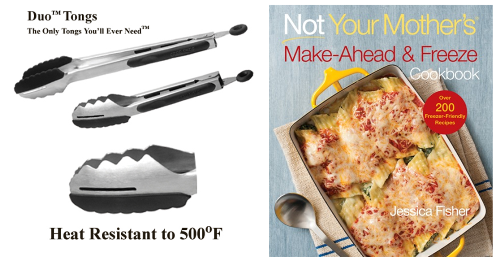 As you can imagine, I spend a fair amount of time in my kitchen. Between feeding a family of eight, monthly freezer cooking, developing recipes, and simply cooking for the fun of it, I clock quite a few hours in a week on KP.
One of the things that makes it fun and easier is having the right tools, like my bread machine, my silpat mats, my immersion blender, and my food processor. Over the last couple years, I've also grown very fond of kitchen tongs. Not only are tongs great for serving salad, grilled chicken, and biscuits, they are also fantastic cooking tools, for sauteing, turning cooked items, and generally picking up anything hot.
Recently, I was sent a pair of tongs to review from Ergo Chef. I knew Ergo Chef was an up and coming knife company, but I had no idea they made other cooking tools.
The Duo Tongs come in two sizes, 9- and 12-inches. Not only are the different sizes great, but each one is basically two tongs in one. One side is stainless steel, the other is silicone.

Great to use since the silicone side is perfect on non-stick surfaces
Heat resistant to 500 degrees F.
Ergonomic angled head makes it easy to pick up delicate foods
The slot in the tong head easily drains liquids when boiling or deep frying foods for no mess.
These are great tools to have in your kitchen, so I'm really glad to share them with you this week.
This week four Life as MOM readers will win a set of Ergo Chef tongs as well as a copy of Not Your Mother's Make-Ahead and Freeze Cookbook.
To Enter:
Simply complete the information on this form. Please know that the information is only being gathered for the purposes of mailing you your prize in the event that you are chosen as the winner. This information will not be sold, traded, or given away.
This promotion is open until Sunday, October 21, 2012, at 8 pm PST and is limited to US residents, 18 years or older. Friends and family of Jessica Fisher and Life as MOM are ineligible for entry. The winner will be chosen randomly. The prize for this promotion is provided by and shipped by Harvard Common Press, Ergo Chef, and/or its representatives. This post will be updated with the beginning of the winner's email address. Jessica Fisher and Life as MOM will not be held responsible for unclaimed or undelivered prizes.
Disclosure: I received sample product from Ergo Chef. All opinions are my own.