This is a week filled with giveaways to celebrate YOU. Check back everyday for a new prize to win! Today's giveaway is brought to you by the Harvard Common Press.
THIS GIVEAWAY IS NOW CLOSED. CONGRATS TO THE WINNERS: dehavenfam@, mbensuaski@, bballgirl86@, cvorwald@, Julzh116@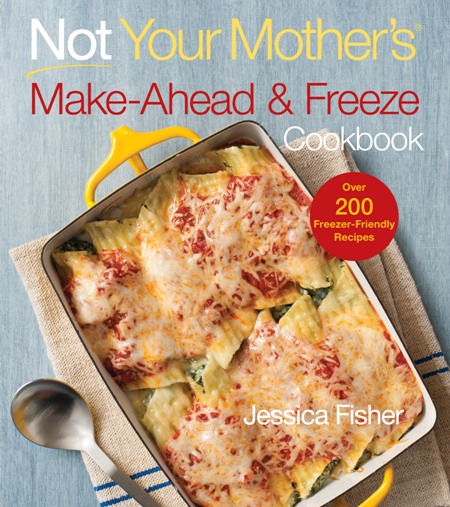 This was my seventh baby. I'd dreamt about it for years, and then I got a chance to write it. So many of you have written to say how it's transformed your cooking and helped you get better meals on the table. I'm thrilled!
That's what I hoped would happen.
As you may know already, Not Your Mother's Make-Ahead and Freeze Cookbook was my first book published by the Harvard Common Press. I knew very little about the book publishing process back in 2010 when I started work on this book. The folks at HCP have been so patient, kind, and generous to me. They have been such a pleasure to work with this past 4 years. I'm one lucky girl!
The Freezer Book, as we call it at the FishHouse, contains everything you need to know about bulk cooking and stocking your freezer with pre-prepped meals. There are several teaching chapters, 200+ freezer-friendly recipes, and 10 cooking plans with grocery lists to help you make the most of your time in the kitchen.
While some of the recipes are those that you might be familiar with already, like Lawnmower Taco, over 100 of them have never been posted on the web. They're like little secrets that a select club get access to, and they are some of my favorites! Like these:
Mexican Beef Tortas
Shepherd's Pie with Green Chile Mashed Potatoes
Sweet and Spicy Joe's
Swedish Meatballs with Dill
Sesame Chicken with Snow Peas and Mushrooms
Chipotle Chicken and Onion Wraps
Chicken Divan with Cheddar Crust
Mahi Mahi with Almond Lime Butter
Ham and Swiss Potato Gratin
Gingery Pork and Mushroom Lettuce Wraps
Grilled Caribbean Pork Tenderloin
Six Layer Nachos
Roasted Vegetable Quiche
Tahini Vegetable Patties
Fish Chowder with Red Potatoes and Corn
Deep Dish Focaccia Pizza
Kahlua Brownies
Caramel-Lime Bars
Pretzel Berry Cheesecake
Not Your Ice Cream Truck's Ice Cream Sandwiches
I could go on….
So instead of that, how about I tell you how you can win a copy for yourself.
Win a Copy of Not Your Mother's Make-Ahead and Freeze Cookbook
This week the Harvard Common Press is giving away 5 copies to Life as MOM readers.

To Enter:
Simply complete the information on this form. Please know that the information is only being gathered for the purposes of mailing you your prize in the event that you are chosen as the winner. This information will not be sold, traded, or given away.
This promotion is open until Sunday, May 18, 2014 at 7 pm PST and is limited to US residents, 18 years or older. Friends and family of Jessica Fisher and Life as MOM are ineligible for entry. The winners will be chosen randomly. This post will be updated with the beginning of the winner's email address. The prize for this promotion is provided by and shipped by the Harvard Common Press and/or its representatives. Jessica Fisher and Life as MOM will not be held responsible for unclaimed or undelivered prizes.