Win a copy of Organizing Life as MOM. This giveaway is now closed. Congrats to the winners: Katebfpl@, beth.shout@,  joellen@,
Missz@, teamsaski@,  sorensen@,  kris@,  emashedj@,  Birchandrea@, mommareck@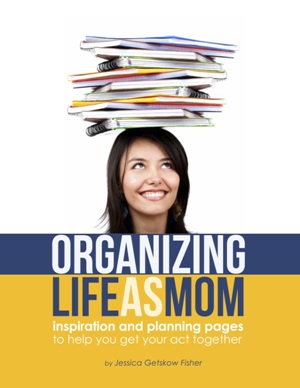 The fourth and final giveaway for the day is one that is near and dear to my heart. A different baby, if you will than the one we're celebrating today.
A few years ago, I put together an ebook that explained my journey of trying to make sense of life with six kids, living in a new locale, desperately wanting to get my act together. Organizing Life as MOM was the result.
Not only is it part memoir, but it's also part how-to manual to put together a command central or household notebook that fits YOU and your life.
Over the years, the book/planner has evolved as I've created more pages or discovered new ways to help me and you be better prepared for the tasks at hand in the "life as MOM." The book is now a whopping 198 pages!
Today I'm giving away ten copies to Life as MOM readers!
Choose from the full-size or half-size version.
To Enter:
Simply complete the information on this form. Please know that the information is only being gathered for the purposes of mailing you your prize in the event that you are chosen as the winner. This information will not be sold, traded, or given away.
This promotion is open until Friday, August 31st, at 8 pm PST and is limited to US residents, 18 years or older. Friends and family of Jessica Fisher and Life as MOM are ineligible for entry. The winners will be chosen randomly. This post will be updated with the beginning of the winner's email address. Jessica Fisher and Life as MOM will not be held responsible for unclaimed or undelivered prizes.