If you're ready to make some changes in your financial life, The Money Saving Mom's Budget can help. Win a copy this week!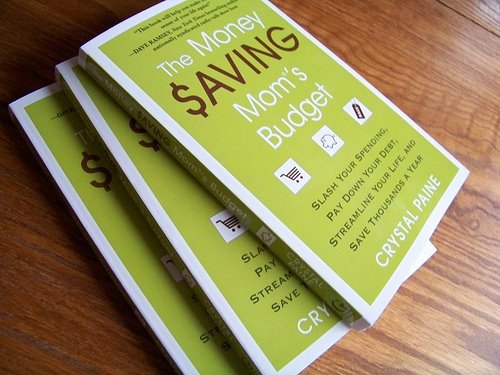 As you know, I'm a big book lover. And how fun when someone I know in real life writes a book! My friend Crystal's book was released today. It's called The Money Saving Mom's Budget: Slash Your Spending, Pay Down Your Debt, Streamline Your Life, and Save Thousands a Year.
Whew, that's an ambitious title! But, if anyone can pull it off, it's Money Saving Mom.
I had the benefit of having Crystal as my personal finance coach back when we lived both lived in Kansas City. The FishFam was in the hole and trying to climb out. We met Crystal and Jesse in the midst of it. And Crystal was a source of great encouragement during that time. We chased kids together, washed dishes, and talked about ways to pinch a penny.
Having known Crystal for several years, I know that she is expert at stretching a buck.
Money Saving Mom was one of the means that God used to help us get out of debt a few years ago. I have personally tested many of her recommendations and know that they work. While we may disagree on some fine points (like I won't use cash to pay for gas 'cause I don't want to walk into the station), the common ground is vast.
You cannot go wrong in reading her book and taking her advice to heart!
The Money Saving Mom's Budget is part of our Booking It List for next month when we'll be discussing it in-depthly as a group. But, sometimes it's hard to get a book when it's a new release. Libraries don't always have them right away and when they do, there's often a long waiting list.
So, how great that I have five copies to give away! 
To Enter:

Leave a comment on this post, naming one of your financial goals for this year.

For extra entries,
So that the winners have a chance to claim, receive, and read their books before we discuss it next month, this promotion will only be open for a short time.
This promotion is open until Thursday, January 12th, at 8 pm PST and is limited to US residents, 18 years or older. The winners will be chosen randomly and notified via email. Please respond within 48 hours to claim your prize. This post will be updated with the beginning of the winner's email addresses. The prize for this promotion is provided by and shipped by Money Saving Mom and/or its representatives. Jessica Fisher and Life as MOM will not be held responsible for unclaimed or undelivered prizes.
THIS GIVEAWAY IS NOW CLOSED. CONGRATS TO THE WINNERS: holbrookmail@, chickfilamom@, lindsey.m.bell@, family.wells@, kawiggains@
Disclosure: I received an advance copy of this book and this post does contain affiliate links. However, all opinions are my own. I would tell you about this book, anyway.