THIS GIVEAWAY IS NOW CLOSED. CONGRATS TO THE WINNERS: waleska.wilbourne@, julia_gulia91@, geektea@
Win a copy of the latest Veggie Tale, The Penniless Princess.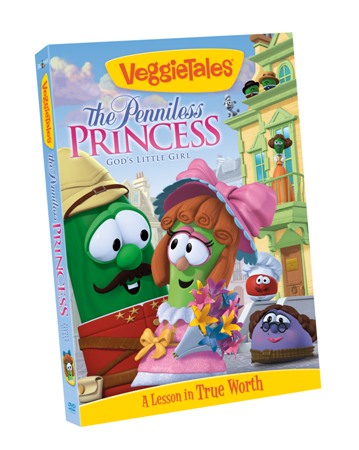 For our early years of marriage and parenting, we didn't have a TV or VCR. It took the arrival of the second child to push us to the brink. My mother-in-law gave us a hand-me-down TV/VCR combo as well as a selection of videos for the kids. Our first home viewings were Veggie Tales.
Lyle the Kindly Viking holds a very special place in my heart.
Today, we're avowed movie-watchers and love to view a flick or two each week. Veggie Tales have been a favorite for a long time. I absolutely love their spins on classic literature and cultural icons. Minnesota Cuke as the veggified version of Indiana Jones is too cute, as is Larry-Boy, the cucumber counterpart to Bat Man.
Recently, we received a review copy of the latest Veggie Tale, The Penniless Princess. The story of Sara Crewe, as told in A Little Princess by Frances Hodgson Burnett, is one of my favorite stories. This Veggie-spun classic film is a fun retelling of that tale.
Movie synopsis: Sweet Sarah Crew has everything a little girl could want – a loving family, lots of friends and a closet full of frilly dresses! But when life takes a turn and Sarah goes from riches to rags, will she realize that her true worth lies not in what she has, but what she has in her heart? Find out in this inspiring new story from VeggieTales that reminds kids who they are in God's eyes.
You can watch the trailer here:
All the kids (shh, even the big ones) enjoyed the video. And it even prompted one of my middlers to hunt down the book as well as The Secret Garden, also by Frances Hodgson Burnett.
I love it when a film prompts a kid to hunt down the original stories!
This week, three Life as MOM readers will win a copy of The Penniless Princess!
To Enter:
Simply complete the information on this form. Please know that the information is only being gathered for the purposes of mailing you your prize in the event that you are chosen as the winner. This information will not be sold, traded, or given away.
This promotion is open until Sunday, August 26th, at 8 pm PST and is limited to US residents, 18 years or older. Friends and family of Jessica Fisher and Life as MOM are ineligible for entry. The winner will be chosen randomly. The prize for this promotion is provided by and shipped by Veggie Tales and/or its representatives. This post will be updated with the beginning of the winner's email address. Jessica Fisher and Life as MOM will not be held responsible for unclaimed or undelivered prizes.
Disclosure: I have received a review copy of The Penniless Princess. All opinions are my own. This post does include Amazon affiliate links. If you make a purchase through those links, I am paid a small amount in way of advertising fees.