I've got a load of fun fall giveaways to share today. Stay tuned to enter them all. This giveaway is now closed. Congrats to the winner: tammysimmons9339@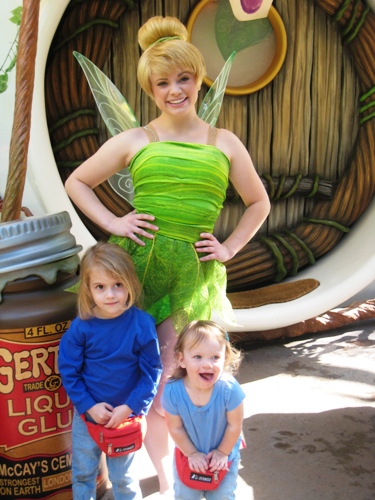 FishChick5 has been a Tinkerbell fan practically since birth. I'm not sure why, but she was one of the first characters that she latched onto. We have the sleeping bag and the wind up musical doll to prove it.
We met Tinkerbell, too.
And while we don't do the tooth fairy, Santa, or the Easter Bunny, we do pretend with other fictional characters, Tinkerbell being one of them.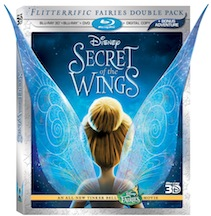 So, you can imagine how terribly thrilled the girls were when we received a copy of the new Disney movie, The Secret of the Wings to review. We've seen the previous films in the series, Tinkerbell, Tinkerbell and the Lost Treasure, Tinkerbell and the Great Fairy Rescue.
I think that we've enjoyed all of them, but The Secret of the Wings movie was the first that held the attention of boys (the younger ones, anyway), girls, and adults. It was truly a sweet movie. I admit, I cried.
There was enough Disney humor to keep the adults entertained as well make the kids giggle. We've watched it many, MANY times over.
And the girls and I had fun taping cotton balls to their shoes. (If you watch the movie, you'll know what I'm talking about. ;))
Win a copy for yourself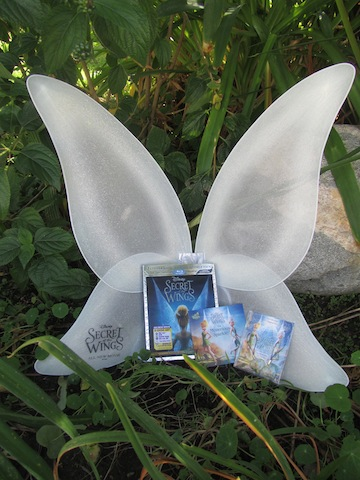 Today I have a Tinkerbell prize pack to give away. One Life as MOM reader will win the following:
To Enter:
Simply complete the information on this form. Please know that the information is only being gathered for the purposes of mailing you your prize in the event that you are chosen as the winner. This information will not be sold, traded, or given away.
This promotion is open until Sunday, November 4, 2012, at 8 pm PST and is limited to US residents, 18 years or older. Friends and family of Jessica Fisher and Life as MOM are ineligible for entry. The winner will be chosen randomly. The prize for this promotion is provided by and shipped by Disney and/or its representatives. This post will be updated with the beginning of the winner's email address. Jessica Fisher and Life as MOM will not be held responsible for unclaimed or undelivered prizes.
Disclosure: I received a review copy of the film. All opinions are my own.