The following post is sponsored by Tyndale House. Enter to win a copy of The Daily Walk Bible. This giveaway is now closed. Congrats to the winners: quirkyfate@, simplymichele@, jamiegriffith768@
It's true that the New Year is a great time to start some new habits, but I think it's important not to fixate too much on starting right on time and getting it perfect all year long. THAT never happens, and that's what makes New Year's "resolutions" fall flat.
Reading the Bible, the inspired word of God, is good all year round, no matter how often or how "perfectly" you do it. I think in Christian circles we can get a little too… too… about getting it right — all the time. That just isn't real life.
But that doesn't mean we shouldn't try.
A close friend mentioned recently how he was failing in a certain area. He said he had a choice to try harder, but he admitted he felt the temptation to completely give up. Such honesty.
Sometimes we tell ourselves if we don't do it the right way, we have no business doing it at all. I disagree. Some effort is better than none. Few of us will become Bible scholars, but that doesn't mean we shouldn't try.
This week, Tyndale House is currently running a big sale to help you try. Check out their selection of devotionals, Bibles, and Resolution Resources. You can get 20% off quite a few different resources, and there's free shipping for orders over $35. They also feature a Weekly Deal at a significant discount.
This week's Weekly Deal is The Daily Walk Bible which helps you read through the Bible in a year.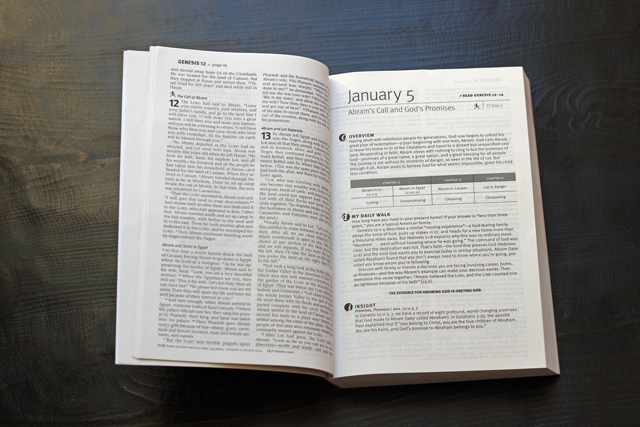 The readings are set up in Bible book order, with several chapters assigned to each day of the year. I missed the first few days of the year, but I decided that God's word is good all the time, so I wasn't going to stress over starting it on the very first day.
Maybe you don't think about that kind of thing, but it plagued me for years.
Each chapter offers background explanations of the context and author. Each reading includes an overview of the content and things to think about as the passage relates to modern times and our own walk with God.
As always, you can sign up for Tyndale Rewards which are spending points that you earn for filling out surveys, joining a focus group, telling a friend (that's my affiliate link), or a myriad of other small tasks.
Win a copy of The Daily Walk Bible
This week Tyndale House is giving three Daily Walk Bibles to Life as MOM readers.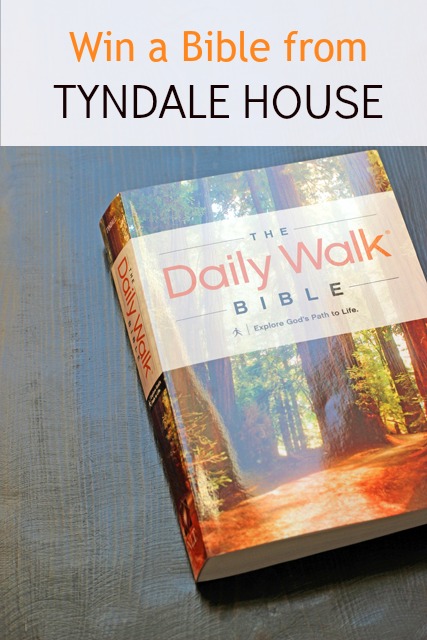 To Enter
Simply complete the information on this form. Please know that the information is only being gathered for the purposes of mailing you your prize in the event that you are chosen as the winner. This information will not be sold, traded, or given away.
This promotion is open until Sunday, January 11, 2015 at 7 pm PST and is limited to US residents, 18 years or older. One entry per person. Friends and family of Jessica Fisher and Life as MOM are ineligible for entry. The winners will be chosen randomly. This post will be updated with the beginning of the winner's email address. The prize for this promotion is provided by and shipped by Tyndale House and/or its representatives. Jessica Fisher and Life as MOM will not be held responsible for unclaimed or undelivered prizes.
Disclosure: I have been compensated for my time spent writing and administering this giveaway. All opinions are my own.