Life as MOM is SEVEN YEARS OLD this week. We're celebrating with some giveaways! This post and giveaway is sponsored by Hallmark. This giveaway is now closed. Congrats to the winners: blt_2006@, corynchar@, and emdiane23@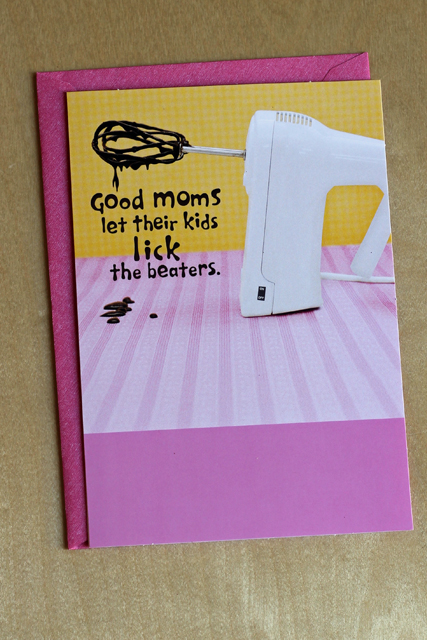 Great ones turn off the mixer first.
Mother's Day is this coming weekend. Heads up! I can't tell you how many emails I've received this week about "last minute Mother's Day gifts". Usually, I'm a day late and a dollar short, so I might have needed them.
But this year, I rocked it. Early.
Before you think I'm all wonderful, realize that it was a moment when the heavens parted and the angels sang a chorus.
We had planned a long weekend to Santa Barbara, Santa Ynez, and Santa Clarita awhile back. I had just enough with-it-ness to plan gifts and cards for four of the favorite moms in my life: my sister Janel, my friend Jessika, my mother-in-law, and of course, my mom. It was really fun to see their pretty faces, visit a little bit, and relieve the guilt I usually feel in forgetting to acknowledge Mother's Day.
Since Mother's Day is the first event in the FishMama Trifecta, we usually don't do a lot at our house to observe it. We're just warming up for the celebrating that May holds, but, that doesn't mean I don't have special moms in my life. In fact, these ladies have had a huge impact on my parenting.
My mom has been a teacher for almost 50 years and a mom for 43. She raised five kids and loved on a whole lot of others. I have great memories of the crafts and books and activities she did with us. I love to watch her do these things with my kids. Mom was my first friend.
Jessika and I met shortly after Fish and I got married. She and her husband Devin spent much of the night at the hospital waiting for our first baby to be born. Her first baby came just a few years later. It's been wonderful to walk through parenting with her.
Janel is my second sister, so we go way back. She became a mom to a girl before I did, so I've benefited from her girl mom experience. Yes, boys and girls are different (I'm so glad!) and it's nice to have her expertise to draw from. My last three are intertwined with her two so we've got kids of every age in the 6 to 11 set. It's so fun for the cousins to be in the same state now!
Marilyn is my father-in-law's second wife. They were married shortly after FishBoy17 was born. She is a mom both biologically and emotionally. She has taken our family under her wing as if we were blood relatives.
FishPapa's mom, Ruthie was a very enthusiastic mom and grandmother. She passed away six years ago, but we think of her fondly at this time and miss her dearly. She would have loved to have known these kids of ours.
It was fun to sift through the collection of cards that Hallmark sent me as a gift. I confess, it made it so easy to  love on my people for Mother's Day. (And we got a few laughs too. I gave Jessika this card, and I can't stop laughing!)
Have you cruised by your local Hallmark yet this week? I guarantee that you will find the perfect card for the moms in your life. It's a great time to #PutYourHeartToPaper
Win a greeting card pack from Hallmark.
This week three Life as MOM readers will each win a greeting card package from Hallmark, valued at $25.
To Enter:
Simply complete the information on this form. Please know that the information is only being gathered for the purposes of mailing you your prize in the event that you are chosen as the winner. This information will not be sold, traded, or given away.
This promotion is open until Sunday, May 10, 2015 at 8 pm PST and is limited to US residents, 18 years or older. One entry per person. Friends and family of Jessica Fisher and Life as MOM are ineligible for entry. The winners will be chosen randomly. This post will be updated with the beginning of the winner's email address. The prize for this promotion is provided by and shipped by Hallmark and/or its representatives. Jessica Fisher and Life as MOM will not be held responsible for unclaimed or undelivered prizes.

Be sure to follow Hallmark on Facebook, Twitter, Instagram, and Pinterest. And be sure to check out their site, PutYourHeartToPaper.com
Disclosure: I have received complimentary greeting cards as well as compensation for my time spent writing and administering this giveaway. All opinions are my own.