This giveaway is now closed.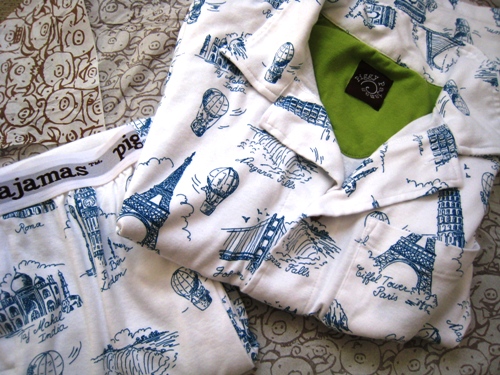 Over the years, I've found myself with a motley collection of jammies. Stained tshirts, holey sweats, and mismatched yoga pants and sweatshirts get repurposed as pajamas. And it works. But, it isn't always relaxing.
Unless, of course, it's my 20 year old UC Santa Barbara sweatshirt that has stretched to accommodate six pregnancies and is now worn thin with washings and if someone ever chucked it without my permission, smoke might come out my ears and my head would spin around. Love that sweatshirt.
But, that's one sweatshirt. The rest of my jammies? Yeah, no sentimental or fashion value whatsoever.
Recently, I got to test out some other pajamas that, well, they've got value.
These are Piggy Pajamas. They have a fun history. Three Santa Barbara women got together to create a product made of the softest organic cotton, pajamas that you will want to lounge in. Sleep in. Read books with your peeps in. They even have jammies with drawings of Santa Barbara landmarks.
Piggy Pajamas are so comfy, you may want to wear them all day. (Oprah even wore them camping!)
This little piggy wears pajamas.
I received the Toile Around the World set of pajamas to review. The blue toile print represents world famous attractions, including the Taj Mahal, the Eiffel Tower, Niagara Falls, Big Ben, and a host of other sites around the world. The jammies are super soft, and get softer with each washing.
Don't be surprised if they are a little long at first. They are cut to allow for shrinkage. Something that this short person appreciates.
I was really impressed with the quality of these pajamas. Not only are they soft, but you can tell that time and attention were given to the crafting of the garments. I love the thickness of the cloth. Very cozy.
These pajamas are going to last quite some time. Which is good since I'm sporting 20-year old clothing as it is!
The Toile Around the World set is part of the Pajamas with a Purpose line. 10% of all profits from these jammies go to the Dream Foundation, a non-profit organization that provides "wishes" for adults facing life-threatening illnesses.
Piggy Pajamas are also available in a pink owl print, with a percentage of profits going to the National Breast Cancer Foundation. They offer a wealth of other toile prints, including owls, piggies, pineapples, Pigs in Provence, and sites of Santa Barbara, one of my favorites, and the upcoming Cook Pajamas. So cute!
Get free shipping for your piggies!
Through the end of the month, Life as MOM readers can get free shipping on any order. Just use the code LIFEASMOM when you order.
Win some Piggy Pajamas!
This weekend three Life as MOM readers will each win a pair of Toile Around the World pajamas.
To Enter:

Leave a comment on this post, telling us why you want to win some piggies.

For extra entries,

Follow PiggyPajamas and FishMama on twitter and leave a second comment, telling me you did so.

"Like" Piggy Pajamas and LifeasMOM on Facebook and leave another comment, telling me you did so.
This giveaway will be open until Sunday, October 16, 2011 at 8 pm PST. Winners will be chosen at random and notified via email. Please respond within 48 hours to claim your prize.
This giveaway is now closed. Congrats to the winners: asn_80@, daisydog@,  lobbyoil@
Disclosure: I have been provided with review product and compensation for my time spent writing. However, my opinions are entirely my own and I have not been paid to publish positive comments.