Win a Copy of The Friends We Keep by Sarah Zacharias Davis
We are a participant in the Amazon Services LLC Associates Program, an affiliate advertising program designed to provide a means for us to earn fees by linking to Amazon.com and affiliated sites. We participate in other affiliate programs as well. For more details, please see our disclosure policy.
CONGRATS TO #8, STEPH! PLEASE SEND ME YOUR ADDRESS TO LIFEASMOM@SBCGLOBAL.NET!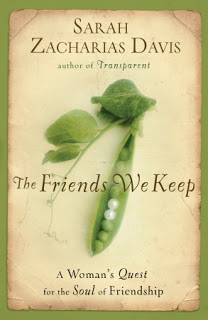 Recently I had the opportunity to review a book about women and friendship. It's called The Friends We Keep: A Woman's Quest for the Soul of Friendship.
From the Publisher:
During a particularly painful time in her life, Sarah Zacharias Davis learned how delightful –- and wounding –- women can be in friendship. She saw how some friendships end badly, others die slow deaths, and how a chance acquaintance can become that enduring friend you need.
The Friends We Keep is Sarah's thoughtful account of her own story and the stories of other women about navigating friendship. Her revealing discoveries tackle the questions every woman asks:
• Why do we long so for women friends?
• Do we need friends like we need air or food or water?
• What causes cattiness, competition, and co-dependency in too many friendships?
• Why do some friendships last forever and others only a season?
• How do I foster friendship?
• When is it time to let a friend go, and how do I do so?
With heartfelt, intelligent writing, Sarah explores these questions and more with personal stories, cultural references and history, faith, and grace. In the process, she delivers wisdom for navigating the challenges, mysteries, and delights of friendship: why we need friendships with other women, what it means to be safe in relationship, and how to embrace what a friend has to offer, whether meager or generous.
Some initial thoughts of my own:
• The book is speckled with first-person narratives about love and loss in friendships. It was hard to know when these accounts were the authors or someone else's. She alludes to these other women in early chapters, but I found it confusing to know when her voice gave way to someone else's.
• I couldn't completely relate to some of the illustrations she uses. Perhaps it's my mom-ness but I felt that perhaps her intended audience did not include the older mom, but the young woman, out of college and newly married. That girl I once was seems far away to me. Maybe the young me would have connected with this book better?
• I love the concept of the book. I think that the questions Sarah asks are important ones. What makes a friendship go the distance? What causes them to fall by the wayside? These are important questions to ask. I don't think she's the first person to ask them, though. I recall similarly themed books from the past. None in my experience fully explained the phenomena of female friendships. The definition seems as fickle as we women are. While I think Ms. Davis makes a good stab at it, I think it's rather elusive.
I have one copy of The Friends We Keep: A Woman's Quest for the Soul of Friendship to give away this week. Simply leave a comment on this post to be entered to win. Giveaway will be open until Thursday at midnight, PST.