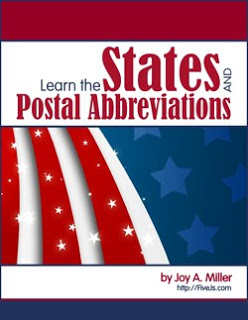 The Web is such an interesting place. You can "meet" so many people and find others with common interests. One person I've "met" over the last year is Joy. Mom of three and designer extraordinaire, she is one savvy lady. Recently, she published an e-book to help children (and adults) learn the states and their postal abbreviations.
I got an opportunity to review her book. Not only does it include a wealth of flash cards, worksheets, and maps, but it presents them in a very polished, professional design. Any teacher, public or private, would find it to be a very useful teaching tool. But, even if you don't teach, it would be a great enrichment activity for your own children.
Now until July 17th you can purchase this book at a reduced rate. Just use the code FISHMAMA at checkout when you make your purchase and you'll receive the book for $2.95 instead of $5.95.
Additionally, this week one LifeasMOM reader will win a free copy. Simply leave a comment on this post, stating your home state and its abbreviation as well as an email contact in case you win. Contest is open until Saturday at midnight PST.