Win a Copy of Susan Branch's Book, Autumn Giveaway Closed
We are a participant in the Amazon Services LLC Associates Program, an affiliate advertising program designed to provide a means for us to earn fees by linking to Amazon.com and affiliated sites. We participate in other affiliate programs as well. For more details, please see our disclosure policy.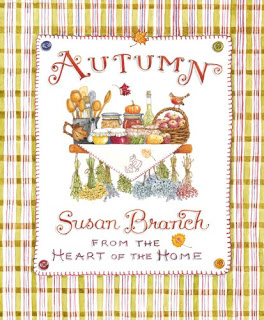 If you read yesterday's review, you know that I am a BigTime Fan of Susan Branch. So, you'll understand how fun it is to be giving away her book, Autumn, on my site this week. One lucky reader will receive a copy of this beautiful book. It is chock-full of beautiful drawings and delicious recipes. We enjoyed Touchdown Chili last night. The verdict from the FishFam is that it is SuperBowl quality.
There are three ways to enter:
1. Leave a comment telling me your favorite part about Fall.
2. Participate in this week's Ultimate Recipe Swap which starts tonight. The topic is Make-Ahead Meals.
3. Become a fan of Susan's on Facebook or follow her on twitter. Come back here and leave a comment telling me you did so.
Update 11/6/09 – Due to new Facebook guidelines which I don't understand, I'm eliminating that part of the entry options. Any entries up until this point are still valid, but let's stick to the other methods of entry from now until Sunday night when this contest will close, 8 pm, PST.
To be eligible to win you must leave me an email contact. I just don't have time to search the blogosphere for you. Thanks for understanding.
Encouraged by what you've read? Subscribe to LifeasMOM by email or in a reader and join me on the Road to Joyful Motherhood.