THIS GIVEAWAY IS NOW CLOSED. Congratulations to the winners, Better is Little, Amy @ Peace and Quiet, and Mrs. Querido.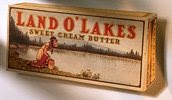 Gramma John lived all her life in Minnesota, the Land of 10,000 Lakes. I visited her many summers during my childhood and have the battle scars from mosquitos to prove it. When she was just a girl, the Minnesota Cooperative Creameries Association became incorporated and later changed its name to Land O'Lakes. Theirs is the butter that my dad grew up with. We have a family tradition of brand loyalty, so it's the butter I remember as well.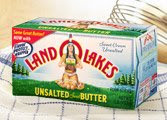 This week Land O' Lakes is sponsoring a Chocolate Chip Cookie throwdown. The FishKids and I will be testing their recipe against one of Gramma John's award winning cookies. They even gifted us some butter for our baking.
Not only that, three of my readers will each win 2 coupons each good for one pound of free Land O' Lakes Butter this week. There are a number of ways that you can enter to win:
1. Leave a comment here, telling us your favorite use of butter.
2. Participate in Ultimate Recipe Swap on Thursday. Share your favorite cookie recipe.
3. Tweet about this giveaway. Link to this page on twitter. Make sure to use @fishmama and to tell me about it in the comments section of this post.
4. Write a blog post about this giveaway and bring the link back here.
Contest is open until Saturday night at midnight, PST. I hope you win!