THIS GIVEAWAY IS NOW CLOSED. CONGRATS TO CHRISSY! I'VE SENT YOU AN EMAIL. PLEASE SEND ME YOUR SNAIL MAIL ASAP. THANKS!
Recently we received a gift box from Frito Lay that contained two bags of Sun Chips as well as a compostable bag from EcoBags. I was a little skeptical about the Sun Chips, actually. Peppercorn Ranch sounded a little too much for my tastebuds. So, I was fine with finding the open, almost empty bag on the kitchen counter when I came home from grocery shopping.
Until I tasted them!
And then, I was rather bummed that there was just a handful of chips and crumbs left. They were really tasty. The kids enjoyed the second bag, Harvest Cheddar, and liked them just as well. (Personally, I'm partial to the Peppercorn flavor.) Yum!
And did you know that Sun Chips are made with solar power? That was news to me.
The compostable string bag is a new part of my growing collection of reusable shopping bags. I love it that I'm not bringing more of those crazy plastic bags into the house. And I get a five cent discount at many of my stores. Very cool.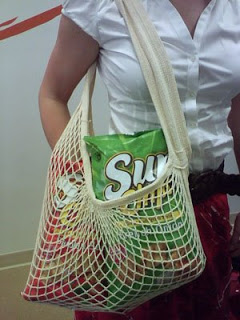 This week you can win a great gift basket comprised of bags of SunChips and this compostable string bag from ECOBAGS®.
To enter, leave a comment telling us what new, eco-friendly habit you and your family are working on this year.
Please make sure you leave an email address for me to contact you if you win. Contest will be open for US residents until Saturday midnight, PST. Winner announced early next week.