This is a week filled with giveaways to celebrate YOU. Check back everyday for a new prize to win! The following giveaway is sponsored by Tyndale House Publishers.

THIS GIVEAWAY IS NOW CLOSED. CONGRATS TO THE WINNER: hopes@columbus.rr.com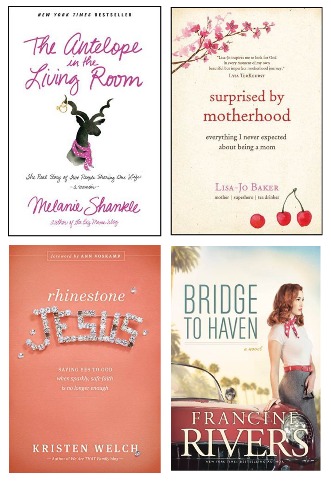 For about four or five years now, I've posted a monthly book review. Booking It has been a great resource for me personally to find out about some great books.
No matter how busy you think you are, you need to take time for some good books. Books help us see outside ourselves. They show us a different world or a different perspective on our own world. That's one of the reasons I love our Booking It chats.
After years of spending money I didn't have on books, I've relegated myself to books that are free or discounted. Not gonna lie. I want as many as possible. I'm really excited about the Tyndale Rewards program I told you about a few months ago. There's no catch. You sign up. You earn points. They want to give you free books. I think that's pretty cool.
Even cooler is that Tyndale is also giving away a great book pack this week to a Life as MOM reader.
Now one of you can curl up with a good book times 4! Over the years it's been fun to watch bloggers who I've followed for a long time become authors. Sometimes they are people that I know in real life; other times they are writers I've admired from afar.
It's kinda fun when someone "you kinda know from the internet" can be seen at your own local bookstore. Likewise, it's been fun to be one those people from the internet. Ha!
This week Tyndale House is giving away four great books, written by moms just like you and me. I think that's kinda cool. I haven't had a chance to read this collection yet, but I'm really looking forward to grabbing these books in the coming months.

Win some great books from Tyndale House!
This week Tyndale is giving away a wonderful prize pack to one Life as MOM reader.
The pack includes the following books:
To Enter:
Simply complete the information on this form. Please know that the information is only being gathered for the purposes of mailing you your prize in the event that you are chosen as the winner. This information will not be sold, traded, or given away.
This promotion is open until Sunday, May 18, 2014 at 7 pm PST and is limited to US residents, 18 years or older. Friends and family of Jessica Fisher and Life as MOM are ineligible for entry. The winners will be chosen randomly. This post will be updated with the beginning of the winner's email address. The prize for this promotion is provided by and shipped by  and/or its representatives. Jessica Fisher and Life as MOM will not be held responsible for unclaimed or undelivered prizes.
Don't forget that you can sign up for
Tyndale House Rewards
in order to receive points (no purchase necessary) to redeem toward free Bibles and other resources. (Psst. that's my referral link.)
Disclosure: I have been compensated for my time spent writing and administering this giveaway. All opinions are my own.