CONGRATS TO BETH WHEAT!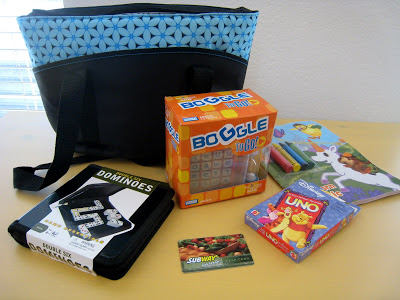 Ding dong. Delivery man came bearing treasure last weekend — a Subway Car Kit! It includes games, coloring book and crayons, a very spiffy insulated tote bag as well as a gift card to where else? Subway.
Subway has a place in many a memory…. high school lunch hour with my girl friends, watching my dad have the sandwich maker "pile it high with veggies," splitting a $5 footlong with hubs on a date, and the multitude of Subways that we've seen when traveling cross country….El Paso, Olathe, Sioux Falls, etc.
The beauty of Subway is not only the great $5 footlong, but also the fact that you can find a Subway location almost anywhere. We've found that some shops are better than others in terms of cleanliness and freshness, but overall, it's a great, quick, somewhat healthy meal. And eating well, healthy, and frugal on the road? That's a minor miracle!
This week I have a Subway Car Kit to giveaway! (Contents, colors, games, etc may vary, but all are valued at approx. $35-40.) I am super impressed with the quality of items in our kit, especially the Thermos bag. Wow!
How to enter? Simply fill in the form below. I hope you win!
Giveaway will close on Thursday midnight, PST.