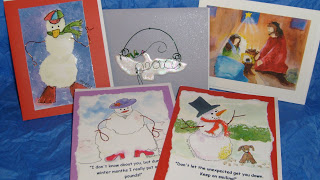 My kids and I are really liking this Bingo Cage. We usually only pull it out when someone is learning his numbers and needs extra practice. But, everyone's getting a kick out of spinning it. I wonder how many small, chokable balls the FishChick will have extracted by the time I'm done with this post?
I am really enjoying this series as well. You ladies have such clever, wonderful ideas that have truly inspired me. I started printing out my Christmas Countdown planner pages yesterday afternoon. I am an ambitious woman and hope that when Oct 26th rolls around, my postpartum hormones will be back in their proper places, and maybe I'll be ready to act on more of these Christmas plans. Thanks for all the inspiration. I'm taking copious notes.
(Actually, I'm counting on blogger not to lose any of these posts so that I can refer back to them later.)
Our giveaway ending this morning is for the Sheila Howe Designs card assortment pictured above. If you haven't had the chance to yet, please check out SheDesigns today! She's got some great specials for you all, good through next week. Ya snooze, ya lose!
Anyway, without further ado….
The Bingo Cage spit out number 6 this morning which means that Briana Almengor is our winner. Briana, send me your address and these beautiful cards will be on their way to your house soon.
Don't forget: We've still got several other giveaways left to go.
Join the cookie exchange and earn a chance to win a great Christmas book, courtesy of Susan Branch.
Come back later today for a chance to win a special Hallmark Keepsake Ornament assortment.