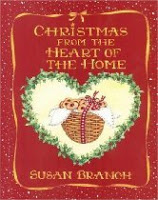 Oh my goodness! Am I starving now that I've compiled our list of cookie recipes! Wow! You now have 24 different cookie recipes to try out before Christmas rolls around. What a great resource.
Many of these recipes took me down Memory Lane. I remember making Christmas Wreaths and Snickerdoodles and Russian Tea Cakes when I was younger. Russian Tea Cakes have always been a favorite. And I'm eager to try Mrs. Fields Bars and Melt in Your Mouth Cookies as well as Chocolate Snickerdoodles. Hello! I think today will be a baking day!
Thanks so much to all of you who contributed recipes. It's so great to put our heads together and come up with fantastic ideas. Love it!
So, without further ado, the winner of this great Christmas cookbook, drawn at random, is Jen Clemmer! Please send your address to me at lifeasmom (at) sbcglobal (dot) net so that I can pop that in the mail to you.
If you're interested in nabbing Christmas from the Heart of the Home at a great price, go here. You should be able to purchase a new/used copy for less than $5!
Make sure y'all come back at lunch time for a very special giveaway.