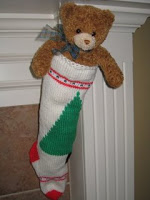 Nanna's stocking giveaway is now closed. Thanks for playing! I am looking forward to rereading all the comments for more Christmas inspiration!
This morning the Bingo Cage spit out numbers 3 and 9. So, "Matt and Betty Morris" and "The Joy of Having Boys" are the new owners of some very special handknit Christmas stockings. Congratulations!
Please email me at lifeasmom (at) sbcglobal (dot) net so I can get those into the mail to you.