5/11/09 – THIS GIVEAWAY IS NOW CLOSED. WINNERS are gahome2mom, allisonking, and denise_22315. Please send me your mailing addresses.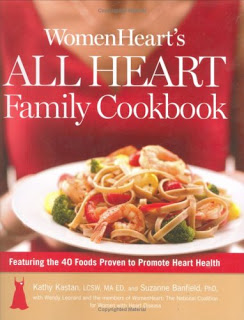 You may not know, but heart disease is the leading cause of death among women in the US. It's in the best interests of our families and ourselves to take care of our bodies, and particularly, our hearts. One way to do that is to eat well.
WomenHeart's All Heart Family Cookbook is a great resource to teach you how to improve your eating habits, from in-depth ingredient descriptions to very doable recipes. You can read my complete review here.
Sara Lee is sponsoring a great giveaway this week. As a partner of The Heart Truth Campaign to raise awareness of heart disease among women and encourage them to make heart healthy food choices every day to take care of their bodies and their families, the company is giving away three cookbooks to LifeasMOM readers.
To support the campaign Sara Lee Fresh Bakery has submitted heart healthy sandwich recipes in the cookbook and will contribute one dollar for every cookbook ordered up to $35,000 to the National Coalition for Women with Heart Disease.
You might also notice that the Heart Truth logo on more than 27 million bread packages. Check out their in-store displays for recipes to help moms bring good food to their tables that is good for you, too.
To enter for a chance to win a copy of this cookbook, you can do any or all of the following:
1. Leave a comment on this post about your favorite red thing.
2. Post about this giveaway and bring your link back here and leave another comment.
3. Tweet about this giveaway, including @fishmama in your tweet. Then come back and tell me you twittered.
4. Subscribe to LifeasMOM by email or subscribe in a reader.
That means you can leave up to 4 comments and have up to 4 chances to win. Please make sure I have a way to contact you if you win.
Contest will be open until Sunday, May 10th at midnight, PST. Sorry, only open to residents of the Continental US. Winners will be announced Monday morning at the top of this giveaway post.
I hope you win!